Now budget and Paris aren't two words that go together particularly easily but if you know what you're looking for it is possible to find mouth-watering yet budget-friendly food in the French capital.
Although it requires a little effort, it is possible to find budget restaurants in Paris. The French capital is a city renowned for its cuisine so finding a great restaurant really can be the highlight of any trip to the city.
A cheaper yet equally delicious option is always a picnic and there are plenty of parks and gardens in Paris to choose from. Making a meal of the goodies you'll find at a food market in Paris is an excellent way to eat well without spending much.
We have made a list of the best budget restaurants in Paris you can enjoy good food in the city of lights without breaking hurting your finances so much.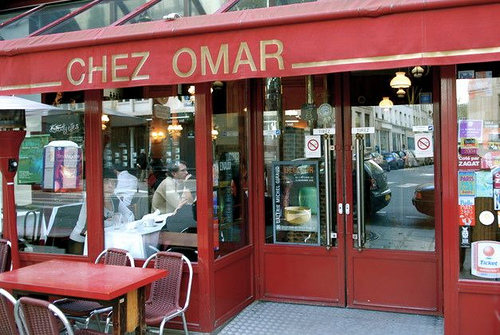 Chez Omar
One word: couscous. Judging from the crowds, it's the best in Paris, and with a very modest price to match. Prices range from €11 (vegetarian) to €24 (royale). 3rd arrondissement.
Bistro Victoires
A rarity in Paris these days, this is a retro bistro serving good food at good prices. Loved by office-workers and locals alike. 1st arrondissement.
Chez Hanna
Still something of a locals' secret, this is possibly the best falafel in the world. Only €4 if you take-away, or €8 to eat in, win-win really. 4th arrondissement.
Crêperie de Pont-Aven
These are crepes, but with a different, delicious twist. Think scallops with mushroom and cream. Definitely don't miss out on this. 14th arrondissement.
La Bourse ou La Vie
This place and its owner have one mission: to perfect the art of steak-frites. All you have to do is choose the cut of beef (unless you go for the cod) and enjoy. 2nd arrondissement.
La Madonnina
The decor just rides the right line between kitsch and cool and the short menu in this gorgeous trattoria changes monthly. Eating the home-made pastas you might feel like in Naples. 10th arrondissement.
Breizh Café
If the cliché of eating a crepe in Paris is too much for you, then you obviously haven't tasted the crepes from this place. Be adventurous. 3rd arrondissement.
Higuma
When it comes to steaming bowls of noodles, this simple yet effective dining room beats all the opposition. You'll love the delicious Japanese dumplings, almost as much as the price.
L'Avant-Goût
This is great, market-inspired restaurant. Homemade desserts and a good-value wine list will round off a satisfying experience. The lunch menu is great value. 13th arrondissement.
A la Bière
This place looks like any other nondescript corner brasserie but what makes it stand out is an amazingly good-value menu full of bistro favorites. Bargain. 19th arrondissement.
So, remember, you don't have to pay with an eye to eat good food. We suggest to make your own list of budget restaurants in Paris to recommend to your friends!