Forget the Eiffel Tower or the Louvre, food is one of Paris' main attractions. As a country renowned for its world famous cuisine, France and the French enjoy eating; but not in an over-indulgent, greedy way, rather in an appreciative of good cooking way. Everyone loves French food!
Of course Paris has more than its fair share of famous, expensive restaurants where you will eat like a king, but it is also true that you can find good food just about anywhere without spending a fortune.
Welcome to the City of Food!
Bistros and brasseries are the ideal way to try some French specialties and eat good food without going over budget. Aa crêperie is always a good, cheap option. Often cheaper than McDonalds, a crêperie serves thin Breton pancakes filled with a variety of things, sweet and savory. So be prepared for a palate tour of French food.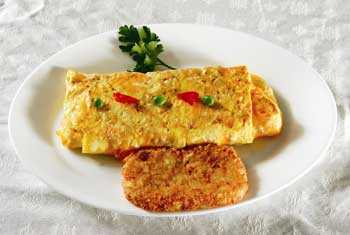 Don't forget the specialty food shops that are just oh so French , including boulangeries (bakeries), pâtisseries (pastry shops), and traiteurs (prepared food shops). They make delicious, inexpensive picnic supplies and cheap meals on the go.
While in France, it is only right that you should try a few French food specialties, so below there is a list of the best of traditional French cuisine with a quick description, so you know what you are ordering!
You may well have tried some of these before but unless you've eaten it in France, you've never really tasted it!
Croque Monsieur/Madame - A grilled cheese sandwhich with a difference. The French version has the ham in the middle and the cheese on top (typically emmental or gruyère). If you're lucky you'll get one of the fancy ones which come coated in Béchamel sauce. A Croque Madame is the same thing with a fried egg on top. Perfect with a salad for a light lunch or snack.
Quiche - Quiche is perhaps one of the most famous of French food dishes. Most well known of all is Quiche Lorraine (made with egg, cream, cheese, and bits of ham) but there are loads of varieties to choose from, including vegetarians. Great served hot or cold.
Omelets - Every country has its own version of egg preparation, but contrary to popular opinion the Parisians never eat omelet for breakfast. It is eaten (often with cheese and ham) for lunch, or as a light snack.
Escargots - Not every kind of French food is loved by concept. The idea may be strange, but when in Paris...eat snails! Usually served with the snails still in their shells, coated in a delicious buttery, garlicky sauce. Even if its only once in your life, it's worth trying.
Steak Tartare - Everyone knows the French like their meat rare, and this is the proof. Steak Tartare is very finely chopped raw beef that's been marinated and seasoned. When done properly it is absolutely divine, and the perfect starter to a meal.
Onion Soup - This is comfort food at its best, and tastes so much better when eaten in Paris. This is a tasty beef-based broth made by caramelizing onions, then covering it with cheese and baking in the oven. Often served with bread.
Beef Bourguignon - Perfect if you are visiting Paris in the colder months, this is a slow-cooked beef stew with lots and lots of delicious Burgundy wine poured into the sauce.
Moules - Unfailingly served with frites (fries), you will see mussels on menus all over Paris. Try them in Paris, even if you've had them before. They're just better.
Clafoutis - The Parisians do dessert as well as everything else, and this is no exception. Clafoutis is a sort of sponge cake with whatever fruit is in season (typically cherries) baked right into it.