As the capital of France, is very well connected to major cities all over Europe and the world, so it's quite easy to travel to Paris.
Nearly every major international airline flies into one of the Paris airports and low cost carriers like Easyjet and Ryan Air are expanding routes to provide a wider variety of cheap flights to Paris.
Plane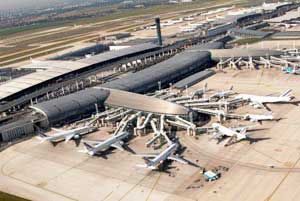 Paris has two main airports: Paris Orly and Roissy Charles de Gaulle and both are well connected to central Paris by public transport. Further away is Aeroport de Beauvais, but it handles mostly charter planes and budged carriers, including low-cost airlines Ryanair and Central Wings.
Most international flights land and leave from Charles de Gaulle airport, which is situated 30km (19 miles) north-east of Paris. Its two main terminals are some way apart, so check which one you need for your return flight. Paris Orly airport is used by domestic and some international flights and it's located at 18 km away south of the city.
For more information, take a look at the Airports in Paris page of our travel guide.
Train
If you want to travel to Paris from within Europe the train often makes for a sensible, if often overlooked, option. If you're not in Europe for long its the ideal way to see some of the countryside and scenery that you would have otherwise missed.
Although often longer in journey time than a flight, the train is much less hassle and far more environmentally friendly!
The French railway system is one of the most efficient and extensive in Europe so it really is a good way to get around the country.
Paris has 6 main rail stations, all connected to the metro, that serve different parts of the country and Europe. For example, Gare de Lyon runs trains that are going all the way south to the French Riviera while Gare de l'Est is the station you need if you want to catch the train to eastern France or even Munich or Prague.
Learn more about getting the train to or from Paris with our Trains to Paris guide.
Bus
Long distances buses may be popular in some countries, say Latin America or India, but these are generally countries that don't have as good a railway system as France.
If you are trying to travel from or to Paris, the train will probably be the most efficient way, but if you're budget is tight but your schedule is not, the bus can be a good idea.
Long distance buses are not very popular in France but there is no denying that they are often the cheapest method of transport. Eurolines is the biggest bus operator in France and is usually a good bet, as it links to 1,500 cities all over Europe.
Generally the coaches are modern and fairly comfortable and the nice drivers will even put on a movie to help you pass the time. Check out the Bus To Paris page of this guide for more information.
Eurostar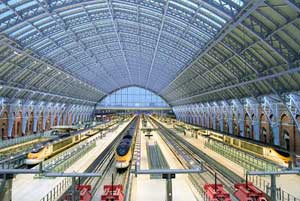 For lucky Londoners the most painless way to travel to Paris is the Eurostar from St Pancras International station.
Super-fast (you can go from central London to central Paris in 2h 15mins) and reasonably priced, the Eurostar has revolutionized business and tourism between the two capitals.
You really can be in Paris for the day and pop to London for lunch, or vise versa.
The prices for tickets on the Eurostar can vary dramatically so if you can be flexible with departure times, you will probably get a better deal.
For more information, go to the Train to Paris page.