The village of Giverny caught Monet's attention while he was traveling on train and looking out the window.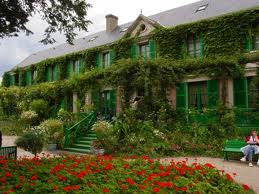 Captivated by the rolling hills punctuated by the yellow of haystacks, and the blooming lilies in Epte River, the painter made up his mind to move to Giverny in 1883. In that year he rented a house and settled in the village along with his 8 children,
He didn't fulfill his dream of buying a property in Giverny until 1890, when he had enough money to buy a house and land without getting indebted. When he did, he created those wonderful gardens he longed to paint
Monet drew lots of inspiration from his house and surrounding gardens and much to the pleasure of his many fans, they have both been open to the delighting public since 1980. They attract a large number of visitors every year, especially in the summer months when the flowers are in bloom.
Inspiration
A day trip into the gardens of impressionist Claude Monet's house in Giverny is a must for any modern art history enthusiast, or even anyone who just enjoys beautiful surroundings.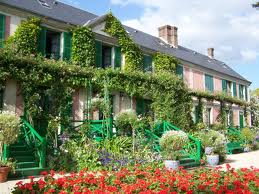 From 1883 to 1926, Monet lead the Impressionist movement. Soon his easel in Giverny was joined by those of John Singer Sargent, Paul Cézanne, and Mary Cassatt, so by 1887 the sleepy little village found itself somewhat of an artist's colony.
His thatched roofed house with its pink facade was enveloped by enchanting ponds and magnificent gardens, two central features of his paintings.
Wandering through the house and gardens, and indeed even the village of Giverny, is like stepping inside one of Monet's paintings. The recognizable cobblestone street featured in Claude Monet's Wedding March is pretty much unchanged since the artist depitected it with his master brushstrokes as is the Japanese footbridge that crosses over a pond decorated with luscious lilies
Giverny Today
Nowadays Monet's house and gardens are kept by the Fondation Claude Monet. The gardens are enchanting and from April to July, they overflow with wild roses, hollyhocks, poppies, and fragrant honeysuckle.
Even without much knowledge of Monet's work, the water lilies, weeping willows, and Japanese bridge in the Oriental Water Gardens are instantly recognizable from his classic paintings.
One of the features in the artist's home is a cheerful and lively kitchen and Monet's collection of 18th and 19th century Japanese prints.
In the village, visitors may pay their respects to the great painter whose grave is in cemetery in Giverny's church.
Musée d'Art Américain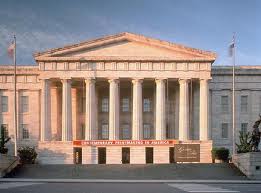 Close to Fondation Monet is the modern Musée d'Art Américain, sibling of the Museum of American Art in Chicago, and it lodges a number of works by American painters who lived in Giverny while studying the Impressionist style and who painted some beautiful depictions of the villages landscapes and surroundings.
A beautiful garden designed by Mark Rudkin -architect and landscape designer- can be found outside the museum. It displays different types of flowers separated by hedges. Of course, it is not as impressive as Monet's, but it's worth a visit just for losing yourself in the small the small flowers and hedges labyrinth.
Practicalities
You can take a SNCF train leaves from Paris's Gare St-Lazare to Vernon, Giverny's closest train station, where a shuttle bus takes you to Giverny. The trip from Paris to the village should be no longer than an hour in total.
If you do not feel up for a bus ride, or would prefer to enjoy the nature between the two villages, you can rent one of the bikes offered by many restaurants just opposite of Vernon's train station. They only charge a small fee and a deposit. The distance from Vernon to Giverny is only 6 km and there are pedestrian and cyclist paths to take, ask for a free map at any of the bike rental locations.
The gardens are closed on most Mondays, so if you're planning a trip for that day, make sure to check whether they're open. They also remained closed during most of the winter months ( November 1st to March 31st).