Interesting Facts about Paris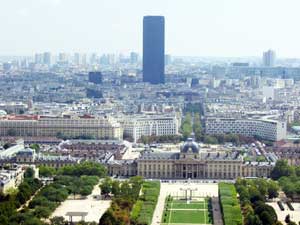 The Financial Times ranked Paris among the three most important and influential cities in the world. According to other magazines Paris is, apart from one of the most visited cities in world among the top 10 cities to live in.
Paris is ancient and mysterious. Everyone knows all about the iconic sights that fill the travel guides. But what about the random facts about Paris and eccentric details that your average guide book doesn't tell you? Here is a list of things you probably didn't already know about the city.
By law, no buildings can exceed six stories in Paris. The reason? Pour que tout le monde ait du soleil (so that all have sunshine).
One of the fun facts about Paris is that area of Montparnasse in Paris is named after Mount Parnassus from Greek mythology. Parnassus is where the Muses lived and for this reason was associated with many of the arts such as poetry and music, and learning. The many literature students who recited poetry in the streets on Montparnasse adopted the name, "(le) Mont Parnasse".
One of the historical facts about Paris: every year the French commemorate the storming of the Bastille prison in Paris on July 14th 1789. Usually the jail held political prisoners but on the day the Bastille was stormed there were only 7 prisoners in the jail, none of political significance, and four of them had been jailed for check-forging.
There are more dogs in Paris than there are children, around 300,000 dogs.
And weird facts about Paris? In the 1930s, the idiosyncratic residents of Île St-Louis, located in the very center of Paris, declared the island an independent republic.
Do you know why Paris is called the City of Lights? It has nothing to do with the power used to illuminate the Eiffel Tower or the streetlights of the city. Lights in this case, means intellectuals, referring to the high-concentration of writers, artists and academics that have always been drawn to the city.
Shakespeare & Company is the most famous English-language bookshop in Paris and it is named after the original store, owned by Sylvia Beach, which published James Joyce's classic novel Ulysses in 1922. The first shop was shut down by the Nazis.
The Marais is Paris' comeback kid. Starting life as a bog (marais means swamp in French) it started on its path to hip boutiques and buzzing nightlife in the 13th century when some monks drained the area to start building the Right Bank. Not a bad revival for a bog.
And one of the least known facts about Paris: the French capital's latin motto is "Fluctuat nec mergitur" meaning "It is tossed by the waves, but does not sink."