In the city of love, la Seine is its beating heart..
It is also a great way to become familiar with the city's most stunning monuments, historical buildings and magnificent bridges.
You will get breath-taking views of the Tour Eiffel, Notre Dame and the Louvre, to name just a few!
The River Seine originates in Saint-Seine (surprisingly) which is near Dijon. Flowing 776 km (486 miles) long through Paris until finally it reaches Le Havre and the English Channel.
The Seine has played a central role in Parisian life since the founding of the city so it comes as no surprise that the river is shrouded in folk-lore and mystery. Legend has it that after Joan of Arc was burned at the stake in 1431, her ashes were thrown into the Seine.
Napoleon, another esteemed figure in French history, wished to follow in Joan's footsteps and be buried on the banks of the Seine upon his death in 1821 but his request was never granted.
The River Seine has always been associated with death and unfortunately in modern times, it has become a popular suicidal citizens and the final destination for murdered victims.
The Seine has always provided enless inspiration over the years to artists from every discipline. The most famous of the artists that the Seine influenced are Matisse, Monet, Pissarro and Boudin.
The best time of year to go, if you want to sit on deck of the many boats that tour its waters, is between May and September, but even in the colder weather inside the boat would be great too.
Practicalities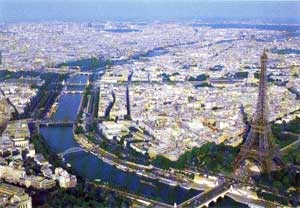 There are lots of choices to make, for example between a narrated tour, lunch or dinner on the boat or even a show. But with plenty of companies to choose from, there is an option to fit every budget.
The bâteau-mouche boat tours are the most well known and depart every half an hour from from the Right Bank pier near Pont d'Alma. The English tour lasts 70 minutes and tells you everything you need to know.
Be aware that there are no tours from 1-2pm.
If you are lucky enough to be visiting Paris in the summer, why not check out the Paris Plages (or Paris Beaches in English). Started in 2002, this is an initiative which every summer, into a beach-side resort.
Paris Plages was created as a haven for the reluctant redisdents who had to stay beind in the city in summer.
Every year new attractions are added, the most recent being a ferry shuttle linking to two banks and a floating swimming pool.
As well as sand and deckchairs there are plenty of activities, such as rollerblading and volley ball, to keep kids and adults happy in the sun.