Where to stay in Paris? Choosing accommodation in Paris can be difficult, simply because there is just so much choice.
In a city, and country, famed for the ability to enjoy the finer things in life, it is no surprise that Paris is full of the most glamorous luxury hotels.
For those traveling on a budget there is still plenty of choice in regards to accommodation in Paris to be found you just have to look a bit closer.
Despite a dip in tourism figures in 2008, new hotels are still springing up in Paris all the time.
A new trend in more affordable, boutique hotels has started so you don't have to pay an arm and a leg for a nice hotel to stay in Paris. Many of them have cutting edge design and good facilities anymore. These 20-to-40-room boutiques have their own spas and bars, making them the perfect option for those who don't want to compromise on quality but are without a trust fund.
Location Location Location
It can be hard finding a compromise between good location and price when you stay in Paris. Even if you are forced to lodge a little further out of the center than you would wish in the name of budget, the metro will get you anywhere in minutes.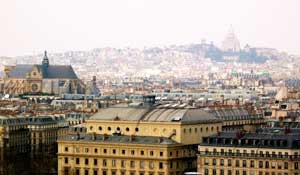 Rue de Richelieu, in the 1st arrondissement, has some fairly budget-friendly options while still being in spitting distance of the Louvre. Alternatively Ile-Saint-Louis can provide some relatively cheap accommodation in Paris for such a central location - look here if you want some peace and quiet in the middle of the city.
If you are willing to forgo a view of the Louvre or Notre Dame, St-Germain-des-Pres is the ideal place to look for a classic taste of Paris although this timeless elegance often comes with a hefty price tag.
Budget Options
East of the city is a good place to go for budget hotels to stay in Paris, the 12th or 20th arrondissements. At the lowest end of the spectrum there is a large concentration of hostels in the Marais and Bastille; many are very basic but there are a few gems if you are willing to do the research.
When it comes to accommodation in Paris Montmartre is a tourist hub so, logically, there are a lot of options to choose from in the area. Lots of them are very charming, however this also means they don't come cheap.
That said there are a few reasonable options, turn to the Cheap Hotels in Paris page to read more.
Compromise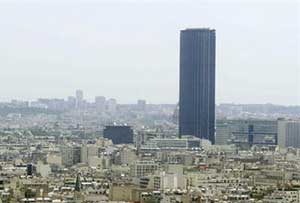 Montparnasse is a good compromise between price and location as it is within walking distance of the Eiffel Tower without breaking the bank and it is a lovely area to stay in Paris. The residential end, in the 15th arrondissement, is quieter and so marginally cheaper, and preferable if you like your sleep.
If you're not afraid of a long metro ride, the 17th arrondissement, around Batignolles, hosts a number of more luxurious budget accommodations that will give you a soft bed to come home to after a long day of sight-seeing.
Why not try...
Alternatively a B&B is the savvy traveler's choice in Paris. The initiative to encourage locals to offer B&B ws implemented by the Mairie in 2005 and has proved really popular. You can now search and book rooms all over the city via its website.
This can be a really good option for people on a tight budget but who don't want the noisy, often party, atmosphere of a hostel.