Paris has two main airports: Paris Orly and Roissy Charles de Gaulle and both are well connected to central Paris by public transport. Further away is Aeroport de Beauvais, but it handles mostly charter planes and budged carriers, including low-cost airlines Ryanair and Central Wings.
Most international flights land and leave from Charles de Gaulle airport, which is situated 30km (19 miles) north-east of Paris. Its two main terminals are some way apart, so check which one you need for your return flight.
Paris Orly airport is used by domestic and some international flights and it's located at 18 km away south of the city. Domestic and international flights use, 18km (11 miles) south of the city. The first terminal, Orly-Sud, is mainly international flights and the second terminal, Orly-Ouest, deals with domestic flights.
Roissy-Charles De Gaulle (Roissy-CDG)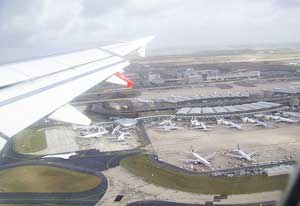 The two cheapest and fastest ways to get into the city from Paris CDG are by RER and by bus. The RER train from Roissy-CDG to Paris leaves from the train station in Terminal 2.
To and From Paris
A free shuttle runs between Terminal 1 and 2 very frequently. Take the RER B (one of the Parisian commuter rail lines) to get to central Paris. To transfer to the metro, get off at Gare du Nord, Châtelet-Les-Halles, or St-Michel, all of which are RER and metro stops.
To get to the airport from central Paris, take the RER B3 to Aéroport Charles de Gaulle, which is the end of the line. The trip should take 35 minutes one way.
Taking a shuttle bus all the way from the airport to Paris is a very easy option. The journey time is the same as the RER. There are two options: the Roissybus and the Daily Air France Buses.
The Roissybus leaves from rue Scribe at Place de l'Opéra every 15 minutes during the day and every 20 minutes at night and you can catch the it from all of the terminals.
The Daily Air France Buses are more expensive but quicker. You can catch a bus every 15 minutes from both terminals, and they stop at Porte Maillot and place Charles de Gaulle. Buses also run to Gare Montparnasse and Gare de Lyon.
Orly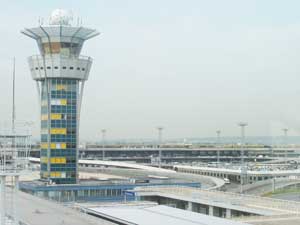 There is a free shuttle service that runs between Paris Orly's two terminals (Orly Ouest and Orly Sud). The same bus also goes to and from the airport car parks and RER C station Pont de Rungis-Aéroport d'Orly.
To and From Paris
The Orlyval, a high-speed shuttle train, is probably your quickest option to and from the airport. It runs every 4-7mins to RER B station Antony and it will take you about 35 minutes to get to central Paris.
Another option is the Orlybus, which runs between metro and RER stop Denfert-Rochereau (lines 4 and 6) in the 14 éme and Paris Orly's south terminal. It takes about 25 mins and runs every 15-20 mins.
There are also Air France Buses that do a route between Paris Orly and Gare Montparnasse and the Invalides Air France agency. Buses stop at Orly Ouest and Orly Sud near the departures entrance.
Beauvais
Aéroport Paris-Beauvais, 75 km north of central Paris is used by charter companies and and budget airlines such as Ryanair and Central Wings. You can get tickets from arrival lounge or buy tickets on the bus.