You haven't seen Paris until you've seen the city at night. Paris is one of the world's leading cities and so hand in hand with that comes a truly epic nightlife.
Large crowds meet in popular Parisian streets and the air buzzes with French conversation and laughs, and the tinkling of glasses.
There is more than enough to keep even the most energetic of tourists busy during the day, and Paris by night is no exception.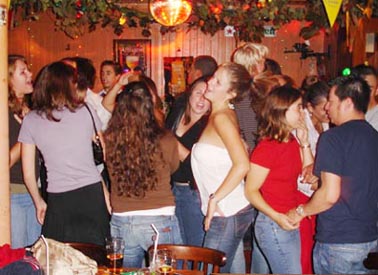 Evenings are when Parisians come to life and show their good humor and pleasant disposition. They joke and dance, flirt and chat. The night is there to be savored so Parisians eat good food and drink good wine, offer innumerable toasts, and are often so loath to leave each other that they party all night.
There are all manner of cafés, bars and nightclubs to suit everyone's taste but the trick is to know where to find them. Perhaps the wisest course of action is to choose a neighborhood (arrondissements) that you like and spend some time browsing through its different bars, restaurant, cafes and clubs. Paris by night is something else.
Parisians love nothing better than to hop from bar to bar, and we suggest than when in Rome do as Romans do, so you get a taste of the shifting energy.
Choices, Choices, Choices - Where to go?
Champs-Elysées is an adequate place to start, but make sure you bring your dashing good looks, a bulging wallet and a very important and a VIP friend. Glamorous and expensive are the buzz words here. The area attracts a lot of tourists as well who just don't know any better. If you are in search of a taste of the true Parisian nightlife, we advise you to widen your gaze to other parts of the city.
The northeastern districts of Canal St-Martin and Belleville attract a chilled, boho crowd whilst bars in the Latin Quarter and St-Germain-des-Prés draw French and foreign students that enjoy Paris by night like everyone else. .
Paris's young and hip, gay and straight, are to be found in the Bastille and Marais. The Châtelet-Les Halles is party central for young professionals and the fashion crowd, and the Pigalle/Montmartre area is full of theatres, live show venues, bars and bistros.
The outer arrondissements cater to the full range of locals in tobacco-stained bungalows and yuppie drinking holes.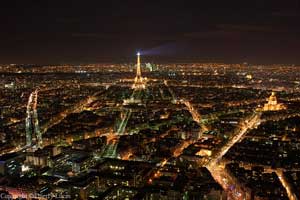 Paris by night moves great crowds. If you want to avoid hordes of tourists and bar chains then head to Bastille which is full of bustling little bars and places with lots of personality. Most popular amongst 20-somethings looking for a good time, it can feel overcrowded at times.
You'll find everything from classy bars and live show venues to traditional cafés and Rue de la Roquette is always a good place to start.
The Oberkampf district has been a favorite hang-out for Paris's young, carefully bedraggled cool kids for over a decade now, which is a long time in this business. Café Charbon kicked it all off and is still a firm favorite although now it has been joined by many, many others.
The Marais is the undisputed gay district of the city, but will welcome pretty much anyone into its party.
Fun and stylish gay and lesbian bars and clubs fill rue Ste Croix de la Bretonnerie (though most don't really care if you're gay or straight as long as you look good).
If you're looking to rub shoulders with the truly beautiful people in Paris then the legendary Place Vendome/St. Honoré is the place to be. Mind you, your wallet better be bottomless or you won't fit in at all here.
Paris by night offers during the warmer spring and summer months many floating bars can be found moored in the Seine to which audacious people flock to.