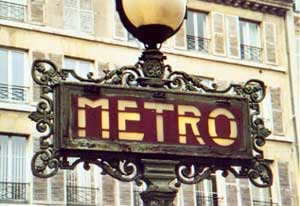 The Paris metro is without a doubt the fastest and cheapest way of getting around the city, even if it might not be the cleanest.
There are two ways in which you can spot a Paris metro station: there's a big, yellow-ish letter M inside a circle (pretty much the universal sign for a subway) or by the more unique curly green Art Nouveau railings and archway which say "Metropolitain" (this is Paris so it does have to be extravagant).
The authorities were thinking about building the métropolitain as early as 1845, and the the first line was officially completed in July, 1900.
An Unexpected Delight
Being the city it is, some Paris metro stations are works of art and worth a visit in their own right. For example, when you stop at the Louvre you could be forgiven for believing that you had into the Museum itself. Exhibits and replicas of art works line the majestic marble walls.
If Abbesses' elaborate Art Nouveau entrances aren't enough, there are also fabulous murals lining the walls. Varenne has a few replicas from the it's near neighbor the Rodin Museum and Liège is covered in stunning ceramic tiles.
More Practical Information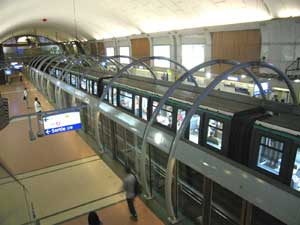 In a more practical vein fourteen metro and five RER lines crisscross Paris and the suburbs, and you are seldom more than 500 yards from the nearest station. The Paris metro network connects at several points in Paris with the RER, the commuter trains that go from the city center to the suburbs.
The five RER lines (A, B, C, D and E) run through Paris and out into the suburbs. Within Paris, the RER is useful for faster journeys – Châtelet-Les-Halles to Gare du Nord is one stop on the RER, and six on the metro.
A word of warning: beware of rush hour. Unlike the uber-efficient metro in Tokyo where platform attendants are actually employed to push people onto trains at peak times, in Paris you're left to your own devices.
This means you should either avoid traveling at rush hour or be prepared to do your best impression of a sardine in a tin can.
How to Use the Metro
It's essential to know the name of the last station on the line you take, as this name appears on all signs. On maps and plans each line has a different color and number (from 1 to 14); Parisians usually refer to the line number.
A connection (you can make as many as you like on one ticket) is called a correspondance. At junction stations, illuminated orange signs bearing the name of the line terminus appear over the correct corridors for each correspondance. Bear in mind that some interchanges, such as Châtelet-Les-Halles, Montparnasse-Bienvenüe and République, involve long walks.
Look for blue signs marked sortie that will indicate the station exit. The driverless line 14 runs from Gare St-Lazare to Olympiades.
Access to Paris metro and RER platforms is through an automatic ticket barrier. Slide your ticket in and pick it up as it pops out. Keep your ticket during your journey; you'll need it to leave the RER system and in case you run into any green-clad ticket inspectors, who will impose a hefty fine if you can't produce your ticket.
Tickets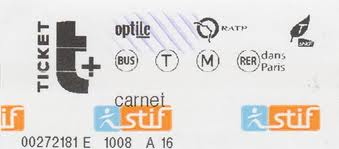 All Paris metro tickets and passes are valid not only for the métro but also for all RER, tram, and bus travel within Paris. Individual tickets for the metro and RER are cheap but a carnet of 10 is better value if you think you will be using the system a lot.
Each metro ride takes one ticket. Metro tickets are valid for RER journeys within zones 1 and 2.
The Carte Navigo replaced the weekly Carte Orange in March 2008. You can get a Pass Navigo Découverte at any ticket window for a small fee plus the subscription for weekly or monthly service. Be sure to immediately attach a passport-size photo and sign your name.
Similar to London's oyster card this magnetic swipe card allows you to zoom through the turnstiles and can be kept for years; just recharge it at any purple kiosk in the métro stations.
The Paris metro service runs from 5.30am-12.40am Monday to Thursday and from 5.30am to 1.30am Friday to Sunday, when the last train on each line reaches its terminus. The metro is, in general, very safe as each station is guarded by security officers.
Some lines and stations in Paris are a riskier than others, in particular lines 2 and 13, and the mazelike stations at Les Halles and République.
Unfortunately even the guards can't stop all incidents of pick-pocketing so be especially aware of your belongings on crowded trains. Keep bags closed and in your sight at all times – pay special attention as the doors close.