The Centre Pompidou stands as a light house for the cutting edge of modern art. Second in the world only to New York's MoMA.
The Pompidou center not only houses over 50,000 works of art by 5000 artists but it is a work of art itself. Opened in 1977 after a competition was won by the then-unknown architectural duo of Renzo Piano and Richard Rogers, the centre was an immediate success.
It was Georges Pompidou, the President of France from 1969 to 1974, who decided the centre should be built (so it gets his name) but it was opened officially by his successor in 1977. The Pompidou was designed to accommodate 5000 visitors a day, but now attracts over 20,000 daily.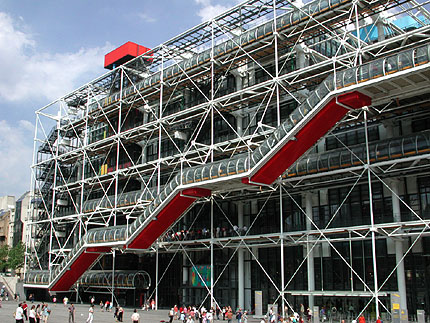 The inside-outside approach to the building was popular with the public as well as the idea of having a multi-disciplinary space (museum, library, exhibition and performance spaces). Despite causing some controversy at the start, the Centre Pompidou is now a dearly loved part of the Parisian landscape, primary colored tubes and all.
The top two levels of the building are home to the Musée National d'Art Moderne (Modern Art Museum). Modern art, from 1905 to 1960 abounds on level 5 including major works by Matisse, Modigliani, Marcel Duchamp, and Picasso. More contemporary art such as Pollock and Warhol, from the 60's onwards, can be found on level 4.
The courtyard in front of the Centre Pompidou is also pleasantly surprising, especially if you are traveling with children. It attracts lots of Parisian street performers, from musicians to mime artists, and so is buzzing with life.
The mechanical fountain in the square, designed by Niki de St. Phalle and Jean Tinguely, is inspired by Stravinsky's works.
It is full of colorful sculptures, such as mermaids, elephants, giant red lips and bowler hats that have be known to squirt water at passers by. Perfectly in keeping with the Centre Pompidou, it makes for a different side of Paris.
Practicalities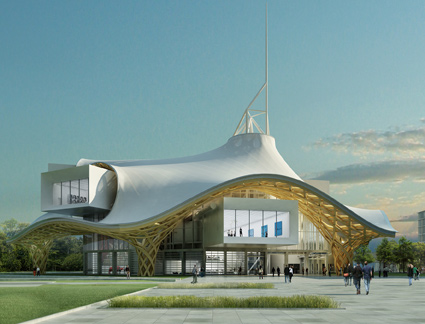 Despite the huge collection in the vaults, only about 600 works can be seen for real at one time in the Pompidou centre. Buy tickets on the ground floor and then take the escalator to level four for modern art and then you can climb to level five for 1905 – 1960.
Some of the artists available to see are Matisse, Picasso, Modigliani, Kandinsky, Miro, Brancusi, and Duchamp.
There is a partial re-hang once a year to rotate the immense collection so a second visit at a later date is definitely worth it.
Important to note that you can buy tickets ahead of time on centre Pompidou's website and the whole complex is closed on a Tuesday. The first sunday of the month is free for all visitors and everyone under 18 and all EU citizens under 25 are free all the time.