The peaceful Oise River Valley's charm has remained much unchanged since painters such as Pissarro, Cézanne among others came to Auvers-sur-Oise attracted by its beauty in the second half of the 19th century.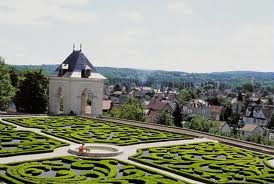 But it is the spirit of the great Vincent van Gogh that can be felt everywhere in this pretty riverside village. For a few weeks the impressionist painter lived here, creating many of his masterpieces. Sadly he also decided to put and end to his life and did so in a wheat field just outside the town.
Today, thousands of people flock to Auvers to see where and how he lived and to visit his grave and pay their respects. This self-proclaimed "Cradle of Impressionism" is a perfect daytrip from Paris if you are a lover of art or just want a bit of tranquility.
Van Gogh
Van Gogh took refuge in this bit of the countryside, only 30km northwest of Paris, after fleeing Provence where he had been diagnosed with depression and possible epilepsy. He arrived in Auvers-sur-Oise in May 1890 and produced the impressive amount of 70 canvases in 10 weeks! The surroundings must have been very therapeutic, at least for a while.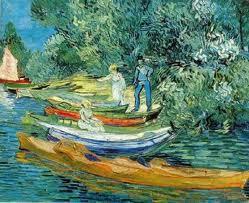 But sadly neither the doctor nor the countryside were enough to lift his depression.
On July 27 , he left his home in direction of the fields close to the Auvers. He came later and crawled into his room. He had a bullet in his chest. He bled out and died two days later. It is known that he said to his brother Theo before expiring "sadness goes on forever".
Becoming a Legend
During his brief career van Gogh sold only one painting so no one could predict the legendary status his art would soon assume. His finest works were produced in less than three years and he became a master at translating passion and feeling onto the canvas using bold brushstrokes and intense color.
Van Gogh never had any children but he admitted to his brother that he saw his paintings as his progeny.
By the mid-20th century, van Gogh was recognized as one of the greatest and most distinctive painters in history and many critics have named him the father of Impressionism and the trailblazer of modern art.
The Town
Auvers is no longer a a bustling artists commune but it has been forever immortalized in some of the most revered paintings of the last century. Visitors that come to this tranquil town will witness many sights incredibly similar to those portrayed in the painter's work.
For any fan of the artist, a tour of the town is like a Who's Who of van Gogh's materpieces and well worth doing.
Maison de Van Gogh
Set opposite the village town hall (which incidentally has changed very little since van Gogh painted it), the Auberge Ravoux, the inn where the artist stayed, is now the Maison de Van Gogh. The inn opened in 1876 and it was named after its landlord from 1889 to 1891, Arthur Ravoux.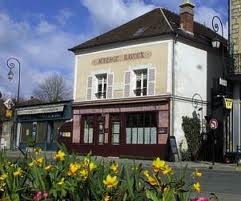 A tiny staircase takes you to the quite spartan and small attic with wood floors. Here Van Gogh stored some of the most famous impressionist and modern paintings in the world. They were normally kept under his bed. A short film narrates the time Van Gogh's spent at Auvers-sur-Oise, and the you can find any and every type of souvenir related to Van Gogh in the gift shop.
A visit to the Cimetière d'Auvers , where van Gogh and his brother Théo are buried, is worth the 15 minute walk from the Maison de van Gogh.
The path is well sign-posted and on the way you will see the elegant Notre Dame d'Auvers, which Van Gogh painted as the 12th century in his painting Église d'Auvers, which currently hangs in the Musée d'Orsay. The graves of the two brothers are situated unassumingly at the back of the cemetery.
Close by is the Atelier de Daubigny once the home and studio of pre-Impressionist painter Charles-François Daubigny. The painter lived in Auvers from 1861 until his death in 1878. Painted roof and walls, by Daubigny himself and other fellow artists Corot and Daumier can be seen in his atelier.
Practicalities
Take the RER C from Gare d'Austerlitz toward Pontoise. Disembark at St-Ouens L'Aumone approximately an hour later and switch to the Persan Beaumont Creil line. Get off at Gare d'Auvers-sur-Oise.