Who knows what would have been of Chartres if not for a single piece of fabric? But the cloth we speak of is the one that the Virgin Mary supposedly wore the night that she gave birth to her first child, Jesus. Because of that cloth Chartres became a major medieval city, to which thousands pilgrimage.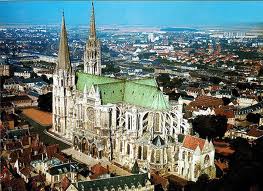 The supreme cathedral that houses this relic has been lavished with poetry and prose for centuries, and it deserves every word of it.
There are some places that are famous for one particular sight or attraction – so famous that, even if there wasn't anything else worth seeing and doing in that place people would still go. ChartresCathedral is one of those extremely famous attractions but it isn't the only reason to visit.
The vieille ville (old city) is also a a gem of architecture from medieval times, and with enough imagination you can forget about the highways that surround it. Whatever your reason for visiting Chartres, whether it be a day trip from Paris or the first stop into the Loire Valley, make sure your camera is prepared.
History
Founded as the Roman city Autricum 60 miles outside of Paris, Chartres' oldest streets, still named for the trades once practiced there, cluster around the majestic cathedral and gaze over the tranquil Eure River.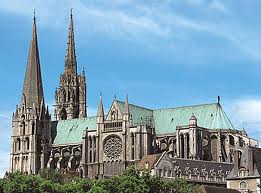 The Chartres Cathedral, officially called Cathédrale Notre-Dame (confusing we know), is the best well kept medieval church in Europe, and it seems that from some miracle it survived almost intact the French Revolution and the Second World War almost two centuries later.
Despite the fact that it's best for the cathedral, worship on site is much, much older, going back centuries, even before the Gallo-Roman period. But it wasn't until the 9th century that Chartres became a pilgrim's dream, when Charles the Bald (Charlemagne's grandson) donated the Sancta Camisia (the cloth mentioned cloth that belonged to the Virgin Mary) to Chartres after he became emperor in 875.
The cathedral that stands now was built during the 12th and 13th century after the previous one burnt down in 1194. It is the sixth cathedral up to date.
The Cathedral
It takes time for your eyes to adjust to the dimness of Chartres cathedral as you enter but soon the gemlike richness of the stained glass, with the famous deep Chartres blue glass predominating and eclipsing everything else.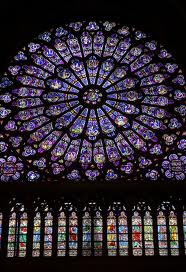 In the past when books were a rarity and the masses were illiterate, the cathedral served as a multimedia teaching tool. There are 172 stained-glass windows that date back to the 13th century. Fortunately preserved through both World Wars thanks to the diligent decision of the town's authorities, who took them apart, no easy feat considering they make up over 2000 sq. m of glass, and stored them, pane by pane in Dorgogne.
Unfortunately there aren't many tours in English, the only one is given by a local from the town Malcolm Miller, considered an institution because of his formidable knowledge about the cathedral.
Miller has been leading visitors and tourist through the church for over for decades as he is an authority on Gothic architecture. His tours are full of intelligence, witticism and visitors of all ages have a great time.
Apart from the famed cathedral, Chartres is also home to a Musée des Beaux-Arts which is housed in a handsome 18th-century building just behind the cathedral that used to serve as the bishop's palace.
Its varied collection includes Renaissance enamels, tapestries, armor, and some fine French paintings from the 17th, 18th, and 19th centuries including works by Navarre and Soutine among others. It has a multi-terraced park perfect for making picnics.
Practicalities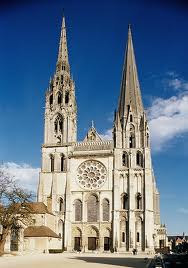 Be aware that timing is important if you want to fully enjoy a trip to Chartres because this is not the big metropolis of Paris anymore but a small town and things close. In true French fashion everything closes during lunch time, mass times restrict visits to the cathedral and English tours take place only twice a day.
For an ideal day trip, arrive around 10 or 10:30 a.m. and go to the Musée des Beaux-Arts right away, as it closes at noon.
You can spend the afternoon wandering the charming streets, pick up some lunch and make it back to the cathedral to catch the afternoon English tour.
It easy to get from Paris to Chartres as frequent trains leave from Gare Montparnasse, Grandes Lignes, on the Nogent-le-Rotrou line. There is normally one train per hour in the summer but it is best to pick up a schedule ahead of time in both summer and winter, as times are irregular.
The journey only takes about an hour and provides pretty scenery for a day trip from Paris.