Transport in Paris is delightfully easy and cheap.
Visitors have the choice between using the metro, the vast bus system, the RER and now even the Vélib (a communal scheme allowing you to rent bikes to ride around Paris).
The RATP (Régie Autonome des Transports Parisiens) are the powers-at-be that coordinate the network of metros, buses, and commuter trains in and around Paris.
For information directly from the horse's mouth, contact La Maison de la RATP, right across the street from Gare de Lyon (rue de Bercy) or the Bureau de Tourisme RATP (Place de la Madeleine) in the 8th.
Driving in Paris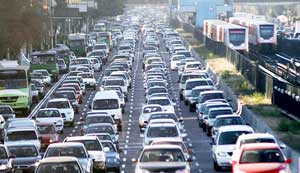 One thing you really really shouldn't do, unless you are planning on spending a lot of time out of the city, is rent a car. Driving in Paris is a slow and painful process, not for the fainthearted and definitely not to be attempted unless absolutely necessary.
Priorité à droite gives the right of way to the car approaching from the right, regardless of the size of the streets - potentially the most illogical way to manage car flow ever thought of. Unfortunately Parisians exercise this right even in the face of grave danger which makes the roads inhospitable to newcomers to say the least.
You will see a lot of flashing headlights as that is legally the way the drivers can show their discontent. Be warned Parisian drivers are always discontent. A map of Paris marked with one-way streets is indispensable for drivers.
Parking is expensive and hard to find. How many more reasons not to drive around Paris do you need?
Walk instead!
Of course, if you are feeling energetic or the weather is good, walking is by far the best way to get a feel for the city. With all the major sites within 10km of each other, walking around Paris is the cheapest and most scenic option.
Taxis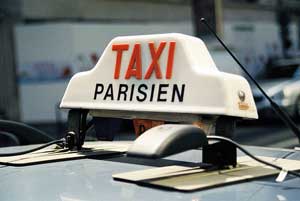 Taxi is a good means of transport in Paris and always an option although Parisian taxi drivers are not known for their flawless knowledge of the Paris street map. Not the cheapest nor most efficient way of getting around the city, you'll be glad to hear that Parisian taxis don't charge by minutes but by zone of the city and time of day.
If the white light on a taxi's roof is lit up that means that the car is free. A shiny orange light means the taxi is busy.
You can find one every couple of blocks on major roads, crossroads and at stations. They're marked by a square, dark blue sign with a white T in the middle.
Expect to be ripped off
Be aware the driver will start charging you the minute your bum hits the seat. Be aware there is an surcharge for each piece of luggage over 5kg or bulky objects, and a special little fee if they pick you up from a from mainline stations.