Yes, Paris is obviously amazing, beautiful and fantastic. Every manual, every city guide, will tell you so. But why exactly? Does one need to stay for months in it to finally get past the postcard quality of its superficial allure? Maybe we can help you speed up that process.
Here are five spots of relatively known by Paris tourism. Not only are they our favorite ones in the city. They also epitomize what makes Paris so great. Look at them and consider what kind of metropolis has these things? We can explain.
Rue des Rosiers, Le Marais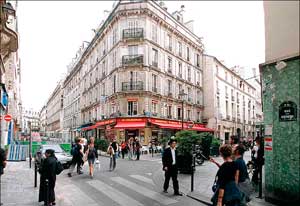 This road is the pulsing heart of the Jewish community of the Marais. Packed with kosher shops, bakeries and falafel counters, rue des Rosiers has not given up the fight against the encroaching army of hip boutiques and delis. If you can spare some time, this is the perfect place for people watching and enjoy a different Paris tourism. The city's Jewish quarter has existed here in some form or another since the 13th century but during WWII many Jews who had fled to France to escape the pogroms of Eastern Europe were murdered by the Nazis. The Mémorial de la Déportation commemorates these victims.
Place Dauphine, Ile de la Cité
If you have come to Paris with a romantic image in your head, chances are you'll be dreaming of Place Dauphine.
Squares as elegant, chic and... well just as Parisian as this, are a dying breed. But even if its just for a moment you feel as if you are in the Paris of some old movie. Charming cafés surround the central lawn which is full of solitary book-worms or young couples during the day whilst the clinking of wine glasses mixed with the gentle hub-bub of conversation fills the square in the evenings. A little piece du paradis is perhaps the kind of Paris tourism you're looking for.
Hammam de la Grande Mosquée, the Latin Quarter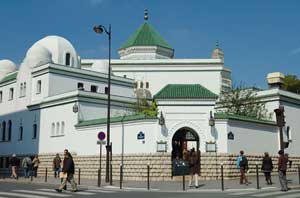 Who knew you could get an authentic hammam experience in the center of Paris's Latin Quarter?
In this beautiful 1920s building with a stunning green-and-white tiled minaret you will be treated like royalty. Enjoy a steam session at a number of different temperatures in the exquisitely tiled interior of the domed hamman or get scrubbed up with a gommage (an exfoliation), and then chill out with a massage. Unsurprisingly the hammam has become very popular with the locals so try to avoid the busy weekends and you'll get an experience out of the frames of typical Paris tourism.
Marché aux Puces de St-Ouen
Covering seven hectares, with 3,000 traders and up to 180,000 visitors each weekend, the Marché aux Puces de St-Ouen is not for the faint-hearted. The fleas left long ago, and what greets you here now is a series of villages, some enclosed, some open-air, where vendors can sell their wares. It is an unparalleled shopping experience but here's a quick hint: bring cash with you, but keep an eye on your wallet.
This flea market may not technically be inside the city limits, but you can still reach it by metro.
A New Paris At Every Corner
The list above sort of implies what makes Paris so uniquely great -- its diversity. Paris tourism doesn't just have to be visiting museums all day long.
Paris is a city of villages and neighborhoods, each with their own special identity, quite different from the rest.
This means that, while anywhere in the 20 districts, you are in the center of a major international city, you can still find quiet corners where the atmosphere is completely different. You just need to know where you are.
The Seine flows from east to west and dissects Paris that way, dividing it into the Left and Right Banks. The two islands in the center of the Seine, the Ile de la Cité and Ile St-Louis, are both the geographical and historical heart of the city.
The rest of Paris proper is divided into a series of 20 districts, each called an arrondissement. These arrondissements spiral clockwise out from the center of the city to create the shape of a snail shell.
Each of the arrondissements in Paris is usually referred to by an assigned number. For example, the Eiffel Tower is located in the seventh arrondissement. Just to make things slightly more complicated for tourists, Paris's premier neighborhoods regularly overlap into different arrondissements and don't respect their numerical divisions.
The Marais district, for example, spans the 3rd and 4th arrondissements, while the Bastille area refers to the 11th and 12th arrondissements. In our city guide, we refer to the name of an area, and use the number of the arrondissement if necessary.
A Network of Villages
However, precisely because it is essentially a network of villages, Paris is an infinitely walkable and fascinating city. It's an enthralling place to discover and explore as each area of the city has its own character. Every Parisian has a favourite arrondissement or neighborhood which they defend with blind loyalty but honestly, almost every area of the city contains something of interest.
The main tourist attractions are located in the very central arrondissements, but it is definitely worth branching out if time will allow.
From the bohemian hill top of Montmartre to the medieval quays of Ile-de-la-Cité, Paris is steeped in history. If you want to follow in the literary footsteps of Sartre and Hemingway, take a wander in the back streets of Montparnasse. But if modern bright lights and glamour is more your style the Champs-Elysées is your best bet. Multicultural Paris can be found in the trendy districts of Bastille and Belleville, whilst the crème de la crème of Parisian society resides in the 16th arrondissement. That's what's so great about it. When it comes to Paris tourism, there's something for every taste.
Use our Paris guide to read up on the city's different areas and decide where you want to spend your time.
Getting to know Paris' many sides would take a lifetime but for a brief overview of the most interesting neighborhoods from a tourist's point of view, check out the following pages. Each one contains a general overview of the area, followed by a list of the best sights to see.
If want to read up on the history of an area before you go, just check the history page for every neighborhood.