Europe has seen many kingdoms, but non like the dream-like Disneyland Paris, located a short distance from Paris. Disney heroes and princesses come to life and share their fairytale life with all visitors.
When Disneyland Paris, then called Euro Disney, opened in 1992 it was looked down upon with disdain by most French intellectuals and the popular press. It was believed it would soil French culture.
Since then they have renamed it Disneyland Paris and started serving wine and lo and behold, it has become one of Europe's biggest tourist attractions.
Once Upon A Time...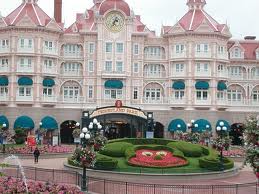 Just imagine walking through those brashly colored gates and being confronted with a life-size Cinderella, Sleeping Beauty or one of the new modern princesses. The whole world is perfectly painted and preened and up-beat music follows you where ever you go.
In Disneyland Paris you can ride through Pinocchio's story or join Wendy and the boys as Peter Pan guides them through the night skies. Indiana Jones offers a rattling ride in a runaway wagon and Buzz Lightyear sends you hurtling through space in Space Mountain.
As much as it seems at odds with an elegant and cultural trip to Paris, Disneyland Paris is great fun.
Taking kids isn't even necessary as all things Disney reduces most fully-grown, sensible adults into gleeful, squirming 7 year olds who can't decide what to do first as it all looks so good. Word to the wise: all those sweet stands are there for a reason, there's no energy like sugar energy.
Like its American counterparts, Disneyland Paris is a mixture of amusement park rides, hotels, restaurants, and other recreational attractions. It in fact includes not one but two theme parks and seven hotels.
For those who wish to splurge and give themselves a treat we suggest the regal Disneyland Hotel. But if you have a tighter budget and or are not a great fan of spending much time with toddlers— a day trip will enough.
Which land will you choose?
The first theme park, called Disneyland Park Paris, is divided up into 4 lands: Frontierland lets you to nose around and live , for a while, in the experience of the Wild West while Adventureland is full of pirates, explorers and tree-houses. Fantasyland brings to life the fairytales and stories of the dream-world depicted in Disney films loved by generations and Discoveryland is space-themed and full of giant Toy Story characters.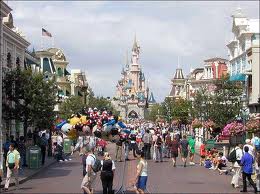 The popular Main Street U.S.A greets you as you enter the park and recreates the 20th-century charm of small-town America in all its white picket fence and ice-cream parlour glory.
Giant floats and every Disney character you can think of prance down Main Street everyday during the Once Upon A Dream Parade. You can hop onto a Disney train at any time to get more easily between the "lands".
The other theme park is Walt Disney Studio Park which opened in 2002.
The different parts are studio lots: Front Lot, Toon Studio, Production Courtyard, and Hollywood Boulevard; and you can even visit the Backlot. In Walt Disney Studios Park you can experience the showbiz world and get a feel of how Disney films are made. Queues are generally much shorter than in Disneyland Park. There's a good reason: a lot of people prefer the thrills of fast roller coasters, but in Disneyland Studios Children may enjoy a sing-a-long Animagique show with Mickey, Donald, and the rest of the gang.
As well as the two amusement parks, there is Disney Village which encompasses restaurants, cafes, Disney stores, a bowling alley and a disco. As if all this wasn't't enough to keep you amused, there is even Disney Golf and a Disney Lake.
Practicalities
It's very easy getting to Disneyland Paris. Take the RER A commuter train from the Chatelet-les-Halles, Gare de Lyon, Opéra or Nation stations in central Paris, going in the direction "Marne-la-Vallee". The train will leave you at the park's main.
The last train back to Paris leaves Disney at 12:20am, so you can really make the most of your time in the park if your stamina holds up.
The TGV service from de Gaulle airport reaches the park in under 10 minutes, great for travelers with Eurail pass and international tourists.
Alternatively Eurostar trains now run directly between St Pancras Station in London and Disneyland Paris- there aren't many trains each day that do this journey so be sure to check the timetable.