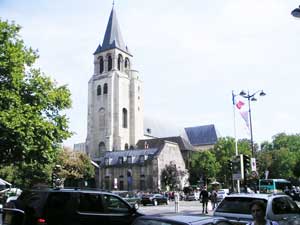 Decadence is what St Germain des Prés does best.
Today it is home to Paris' richest, the haute bourgeoisie and in the past it was famous for being the birth place of the existentialism intellectual movement.
It is about as classically Parisian as it gets with elegant apartment blocks punctuated by upscale art galleries, celebrated cafes and designer boutiques.
While it used to be Jean-Paul Sartre and Simone de Beauvoir sitting at the tables of Café Flore and Les Deux Magots, today it is tourists and locals who are willing to pay €3 for an espresso. Saying that, St-Germain-des-Prés is still an excellent place to do some people watching.
While it might just sound like the superficial, good-looking sister to more serious parts of the city, there are plenty of sights to see in St Germain des Prés.
The neighborhood is named after one of its most important sights, the Abbey of St-Germain-des-Prés.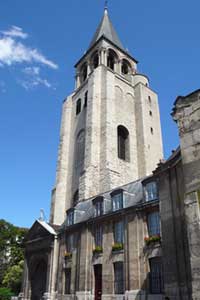 The church is the oldest in Paris and the Benedictine abbey was originally founded by Childebert, son of Clovis, to house a shard of Christ's cross. The present day building incorporates enlargements and repairs from various eras and is located conveniently opposite the two illustrious cafes, Café Flore and Les Deux Magots.
The neighborhood around St. Michel and the fountain is buzzing with bars and cafés and if you are especially interested in fashion or antiques this is the place to be.
Wander through the maze of streets between Boulevard St. Germain des Prés and the Seine and browse lazily through the retro clothing stores and book shops. Start the evening in a bar on Rue Canette and then migrate to a jazz club to wile away the night.
The Jardin de Luxembourg which straddles the 5th and 6th arrondissement is nothing short of stunning and should be on every 'to do' list. St Germain des Prés is also home to the Musée d'Orsay which should be a top priority on everyone's list. If the unrivalled collection of Impressionist paintings isn't enough to tempt you, the beautifully renovated Belle Époque train station that houses the museum is enough of a draw in itself.
Even though St-Germain-des-Prés is no longer at the intellectual centre of Europe, it is still one of the most beautiful and vibrant neighborhoods in Paris.
Sights to See
While you could easily spend a day just wandering around the elegant streets of St Germain des Prés, wallowing in the stylishness of it all, it would be a shame to miss out on some of the sights that the neighborhood has to offer.
The area is a haven for a well-heeled crowd of locals and tourists, with all manner of boutiques, cafes and bars in which to 'be seen' but there are also some more serious and cultural pursuits to be had. There are more museums than you can shake a stick at, such as the Musée Maillol where you can admire the sculptors tender drawings or the Musée Delacroix which allows you see the studio of France's foremost Romantic painter.
We've picked out our favorite sights in St Germain des Prés below.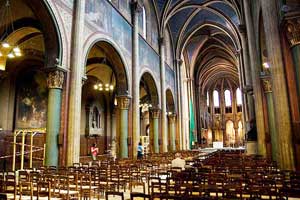 Église St-Germain-des-Prés
Paris's oldest church was built to shelter a simple piece of wood, said to be a shard of Jesus's cross. This holy relic hasn't seemed to bring the abbey much luck as Vikings came down the Seine and sacked the church, it was destroyed by the Normans and rebuilt 3 times and Revolutionaries used it to store gunpowder. However it is still standing and deserves a visit, if not just for that!
Cour du Commerce St-André
Walking down this charming arcade feels like walking back into ancien Paris with the antiquated street lamps and the enormous uneven cobblestones. This place is falling under the weight of its own historical significance: the first experiments with the guillotine (on sheep) took place here and it is home to Paris's oldest cafe, Le Procope. Regular patrons included Racine, Molière, Voltaire, Victor Hugo, Oscar Wilde, Thomas Jefferson and Benjamin Franklin who is said to have 'fine tuned' the American constitution between these very walls.
Musée du Luxembourg
A palace built in 1615 by Marie de Medic, this now houses the Musée du Luxembourg and when it opened in 1750, this small museum was the first public gallery in France. The extended hours are useful for avoiding the crowds but book ahead to avoid queues.