Now it doesn't get much more quintisentially French than French Onion Soup - sweet and rich caramelized onions are science meets cooking at its best. Add them to a savory dish and it's a world of happiness for your taste buds.
This is a very well known, very widely produced dish but not many people know that it comes specifically from Paris. Back in the good old days when the clubs chucked everyone out at dawn, revelers would head to Les Halles market for a bowl of rejuvinating onion soup.
Whilst being one of the most typically French dishes around, onion soup is also one of the easiest to prepare. The recipe for the onion soup we eat today comes from 18th century France but onion soups have been popular at least as far back as Roman times.
There have always been an abundance of onions making them food for poor people. So, French onion soup is cheap and easy to make - no excuses not to try!
French Onion Soup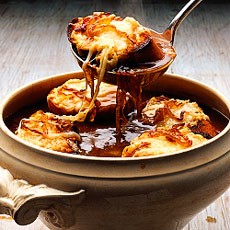 Ingredients
1 pound onions, sliced
1 clove minced garlic
4 tablespoons butter
A pinch of sugar
3 pints beef stock
10 fluid ounces dry white wine
1/2 teaspoon dried parsley
1/4 teaspoon dried thyme
Salt and pepper
A baguette, sliced
8 ounces grated gruyère cheese
Serves 6
Instructions
In a large pot, over a medium heat, gently sauté the onions, garlic and a pinch of sugar in the butter until the onions are brown. Be patient and gentle, to get the maximum taste from the onions this may take a while.
Now add the beef broth, water, parsley and thyme and simmer for 10 minutes. Then add the wine and salt and pepper to taste and simmer on a low heat for an hour or so.
In the meantime, pre-heat the oven to broil.
Fill individual oven safe bowls 3/4 full with the soup. Place a slice of bread on top of the soup and cover with the cheese. Place bowls in the oven.
Broil in the oven until the cheese in melted and bubbly.
Leave to rest for 3 minutes and then serve.
In the final stages of cooking, cognac or sherry can sometimes be used to enhance the caramelized onion flavor and to deglaze the pan.
If you want to make the soup vegetarian just substitute the beef stock for vegetable stock. Sometimes chicken stock is used instead of the beef which makes a lighter-colored but still delicious soup.