You will find this dessert, Petit Pot de Crème à la Vanille, or some variation of it on the menus at lots and lots of bistros in Paris.
Any français or française will tell you how they used to run home with a pail of warm milk and beg their mother to make un petit pot de crème à la vanille for them.
The fact that all of France remembers growing up with this dessert is what makes it such a popular yet classic French dessert recipe.
Before you start be warned that this is not a dessert for those on a diet. It is unashamedly indulgent and delicious but unfortunately that comes with a price - a price that is paid in calories.
That said there are far worse sins in the dessert department that apetit potand instead of using whole milk you could used skimmed milk to make it a bit more health conscious.
Petit Pot de Crème au Chocolat et à la Vanille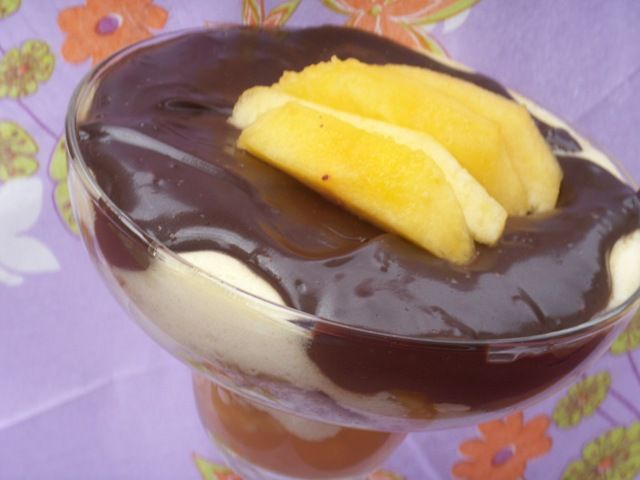 Ingredients
2 eggs and 1 egg yolk
1/3 of a cup of blond cane sugar
2 cups of whole milk
1 vanilla bean, split open and seeds scraped out
50g of dark chocolate, at least 60% cocoa
1 teaspoon of unsweetened cocoa powder
Makes 6 ramekins, according to size
Instructions
In a pot, pour the milk and add the vanilla bean and seeds. Bring to a boil and then stop the heat, cover and let infuse for 30 minutes. Filter.
In the meantime, melt the chocolate and put it to one side.
Preheat the oven to 320ºF
In a bowl, beat the eggs and egg yolk with the sugar, then add the hot milk slowly while beating.
Divide the cream in two equal halves, and add the melted chocolate and cocoa to one half.
Pour the vanilla and chocolate mixtures into small ramekins, jars or containers— make sure to remove the foam that might have formed on top — and place them in a dish filled with hot water, so that they are half immersed.
Place in the oven and cook for about 30 minutes (for the chocolate creams) and 35 to 40 minutes for the vanilla creams. Check regularly after 30 minutes. You should still see a little movement in the middle — the creams will settle once they cool down. Take the jars or ramekins out and let them cool down. Place a plastic wrap on top and place them in the fridge to rest for a few hours before eating.
To make Petit Pot dessert a little more indulgent and luxurious, you can combine cream with the hot milk. Soy milk can also be used as a substitute, or even coconut milk if you are feeling a bit adventurous!