Entrecôte Bercy is a Parisian speciality and it comes more specifically, as the name indicates, from the Bercy neighborhood. Bercy on the Seine, where the Finance Ministry now stands, is in the 12th arrondissement and is one of the oldest areas in Paris.
It was once the biggest wine port and market in the world and so wine would arrive here from all over. This meal was served to the wine merchants.
In its simplest form it consists of a steak grilled with parsely and watercress and accompanied by a white wine sauce with shallots and lemon juice.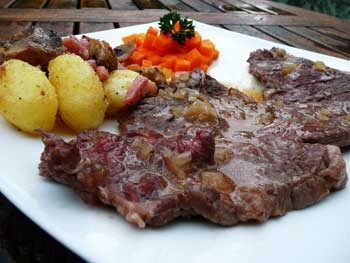 You will find this dish in bistros and brasseries all over Paris and although it might sound challenging to make because of the French name, it really isn't complicated. In French, the word entrecôte denotes a premium cut of beef used for steaks.
Traditionally it came from the rib area of the animal, corresponding to the steaks known in different parts of the world as rib, rib-eye, fillet, or Delmonico. Originally they used horse meat but (thankfully) no longer.
Below is a simple, easy-to-follow recipe so that you can bring a bit of Paris home with you!
Entrecôte Bercy
Ingredients
6 sirloin steaks
8 chopped shallots
3 tablespoons of butter
3 tablespoons of oil
8 fluid ounces, or a cup and a half of dry wine white
juice of one and a half lemons
parsley, salt and pepper to taste
Serves 6
Instructions
Sprinkle both sides of the steak with salt and pepper. Grill over a hot fire. If cooking steaks in a pan use a teaspoon of olive oil.
In a small pan, sauté the butter and shallots and when they become translucent, add the white wine and heat for approximately 5 minutes.
Remove the pan and let cool for a minute or two then add the butter, juice from the lemons, parsley and salt and pepper to taste. Mix together until the butter has completely melted.
Just before serving place some butter on two hot serving plates. Place the cooked steaks on top and then top with the Bercy sauce.
Entrecôte Bercy is ideally served with grilled or steamed potatoes. You could also add an additional garnish that includes some smoked bacon and some Champignons de Paris or a variation if these are not immediately available.
Even though Bercy sauce uses white wine in the recipe, this dish is often eaten with a light red wine to accompany it.