If you have ever been to Paris, or ever even heard of Paris, the chances are that you will recognise the name of this dish, the Croque Monsieur. Served in almost every café and bistro in the city, with a big green salad this is a favorite Parisian lunch or just a snack!
This is no mere grilled cheese sandwich - it has the ham in the middle and the cheese on top, and if you are very lucky, maybe even some béchamel sauce! A Croque Madame is very similar to her male counterpart, only you will get a fried egg on top of it as well.
The original cheese and ham is what you will find most often in Paris but there are lots of regional variations as well
For example a croque provençal comes with tomato, a croque auvergnat is made with bleu d'Auvergne cheese, croque gagnet is with gouda cheese and andouille sausage and a croque tartiflette consists of sliced potato and Reblochon cheese.
Croque Monsieur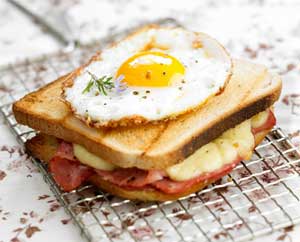 Ingredients
2 tablespoons of butter
2 tablespoons of flour
1 1/2 cups of whole milk
A pinch each of salt, pepper and nutmeg
6 ounces Gruyere cheese (1 1/2 cups)
1/4 cup grated Parmesan cheese
8 slices of French or Italian loaf bread
12 ounces ham sliced
Dijon mustard
Makes 4 sandwiches
Instructions
Preheat the oven to 400ºF.
Make the béchamel sauce. Melt butter in a small saucepan on medium/low heat until it just starts to bubble. Add the flour and cook, stirring until smooth, about 2 minutes. Slowly add the milk, whisking continuously, cooking until thick. Remove from heat. Add the salt, pepper, and nutmeg. Stir in the Parmesan and 1/4 cup of the grated Gruyère. Set aside.
Lay out the bread slices on a baking sheet and toast them in the oven, a few minutes each side, until lightly toasted. For extra flavor you can spread some butter on the bread slices before you toast them if you want.
Lightly brush half of the toasted slices with mustard. Add the ham slices and about 1 cup of the remaining Gruyère cheese. Top with the other toasted bread slices.
Spoon on the béchamel sauce to the tops of the sandwiches. Sprinkle with the remaining Gruyère cheese. Place on a broiling pan. Bake in the oven for 5 minutes, then turn on the broiler and broil for an additional 3 to 5 minutes, until the cheese topping is bubbly and lightly browned.