Paris is a city blessed with museums about just about everything but what is so special about the museums in Paris is the amazing amount of masterpieces that have been created here.
For years liberal, free-thinking Paris was a refuge for artists who went from penniless youths to icons of art whilst they lived in the city. Thanks to this, there are lots of museums in Paris that are solely dedicated to one artist, providing an intimate look into some of the world's greatest art.
There is the obvious like the Musée Picasso and Musée Marmottan Monet but on this page you will also find museums that are, thankfully, less overwhelmed by tourists and which are definitely worth your time.
Two extras that we couldn't fit in our list: Dalí enthusiasts will appreciate Espace Salvador Dalí, while French chanson fans shouldn't miss the tiny Edith Piaf Museum.
Musée Marmottan Monet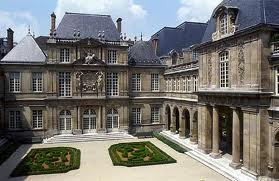 A few years ago the underrated Marmottan tacked Monet onto its official name — and quite rightly so, as this is the largest collection of the artist's works anywhere. The spectacular mansion used to belong to the Duc de Valmy and the museum was first started when Dr. Georges de Bellio, former physician to Manet, Monet, and Renoir, left his personal collection to the place. The second precious bequest came from Monet's son Michel.
The Monet collection in Musée Marmottan Monet numbers 165 works, plus sketchbooks, palette and photos. A special circular basement room was created for the collection's centerpiece: wall-sized paintings of the Impressionist's water lilies, weeping willows, and wisterias.
Upstairs, the mansion still feels like a graciously decorated private home and works by Renoir, Manet, Gauguin, Caillebotte and Berthe Morisot can be seen. (2 rue Louis-Boilly, 16th. Metro: La Muette).
Musée Rodin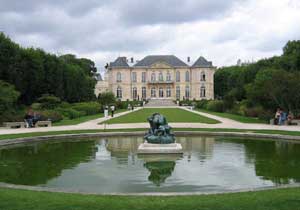 If you listen to Parisians they will tell you that Musée Rodin is one of the best museums in Paris. They're not far wrong. Besides housing many of Rodin's better known sculptures, including Le Penseur, Le Baiser and L'Homme au Nez Cassé, the hôtel that houses it and the surrounding garden are very attractive in their own right.
During his lifetime (1840-1917), Rodin managed to stir up a fair amount of controversy but today he is acknowledged as the father of modern sculpture.
Inside the house you can see The Kiss, the Cathedral, the Walking Man. Most visitors have greatest affection for the gardens which display Rodin's works amid rosebushes and fountains, including the piece nearly all visitors go to the museum to see: The Thinker. (9 rue de Varenne, 7th. Metro:Varenne).
Musée Picasso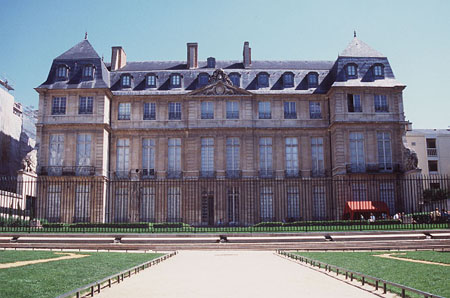 Upon Picasso's death, his family needed to pay French inheritance tax so they decided to do it in artwork. Fast forward twelve years to 1990 and the French government decided to exhibt collection in the 17th-century Hôtel Salé and made it into a museum
Musée Picasso feels like an intimate look at the artist's life and works: detailed information comes with everything and his personal collection of works by friends such as Matisse, Braque and Cézanne are on display.( rue de Thorigny, 3rd. Metro: St-Sébastien).
Musée Malliol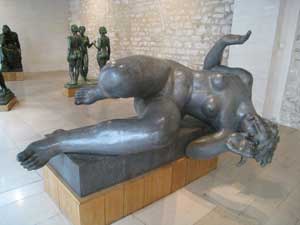 If Aristide Maillol's voluptuous, stylized nudes have caught your eye in the the Tuileries gardens you can admire a few more in this shrine to the sculptor.
His long-time muse Dina Vierny restored the mansion to its former glory. When she was 15 years old, Dina Vierny met Maillol and became his muse, eventually finding her own passion as a collector of modern art. Vierny was his principal model for the next decade, idealized in such sculptures as Spring, Air and Harmony.
The museum was opened in 1995 and has always lived up to the hype. As well as a fantastic series of temporary exhibitions, there is the insightful permanent collection. A a product of the Maillol's work as a sculptor and Vierny's as an art-collector it is one of a kind. (61 rue de Grenelle, 7th. Metro: Rue du Bac).
Musée Zadkine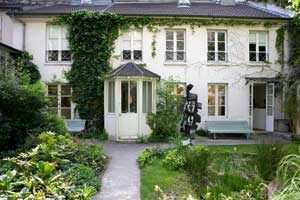 Works by the Russian-born Cubist sculptor Ossip Zadkine are displayed around this tiny house and garden that he lived in near the Jardin du Luxembourg. Zadkine arrived in Paris in 1909 then began working in every style you can think of. All 12, yes that is 12, of his creative periods are exhibited in the museum.
Valentine Prax, Zadkine's wife, also gets a look in as you can see some of her drawings and poems. The tiny sculpture garden is a wonderful place to recover from time spent in the busy northern part of the 6th. (100bis rue d'Assas, 6th. Metro: Vavin).