Where better to learn about French history than Paris? Luckily for history-buffs, there are many history museums in Paris that are full interesting things and lots of information that can enlighten us on various aspects of French history.
History museums in Paris house everything from the canoes of prehistoric tribes and Roman bath ruins to scale models of guillotines and reproductions of Marcel Proust's bedroom, why? Because it's quite an old city, and the French are all for historical preservation.
A few museums we couldn't fit in the list below: the Musée Jean-Moulin in the Jardin Atlantique, focusing on the life of the famous leader of the French Resistance and the Musée de la Monnaies, in the Hôtel des Monnaies (the mint), is impressive for its coin collection.
Musée National du Moyen-Age (or Hôtel de Cluny)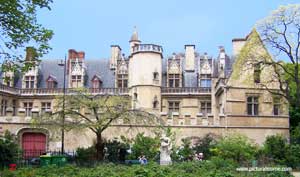 The Hôtel de Cluny became a museum in 1844, when an expert on medieval affairs Alexandre Du Sommerard dumped his collection in a 15th-century building in the ruins of Lutecia's Roman Baths.
It was no small collection. In fact, it bordered on overwhelming. Enter a man called the abbot of Cluny, also in charge of the most powerful monastery in France. He set out to fastidiously curate this collection, and this is why a lot of tourists can now enjoy art from Parisian constructions like Notre Dame or St. Denis.
In this history museum in Paris there's a tapestry series you should make a point of seeing. It was woven in the 15th or 16th century, probably outside of France. But it is called Dame à la Licorne (Lady and the Unicorn) and it is one of the most impressive things the collection has to show. They basically come to represent the five senses that conform our perception of the world.
You can also see what remains of the city's Roman baths -- either the hot (or caldarium) or the cold (suggestively called frigidarium) which has Paris' oldest sculpture -- the Boatmen's Pillar. The website is really useful.
Musée Carnavalet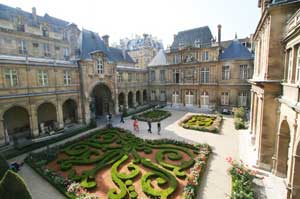 If it has to do with Paris history, it's here. This is perhaps the most fascinating history museum in Paris. Its collection is a mesmerizing hodgepodge of artifacts and art, following Paris's evolution as a city from the prehistoric canoes used by Parisii tribes to the furniture where Marcel Proust would pen his his suggestive works.
The museum is broken up into two neighboring buildings, the Hôtel Le Peletier de St-Fargeau and the Hôtel Carnavalet (a true Renaissance gem where writer Madame de Sévigné used to live back in the day).
If you are feeling a bit bloody-thirsty take a look at the exhibits about the French Revolution. (23 rue de Sévigné, 3rd. Metro: St-Paul).
Cité de l'Architecture et du Patrimoine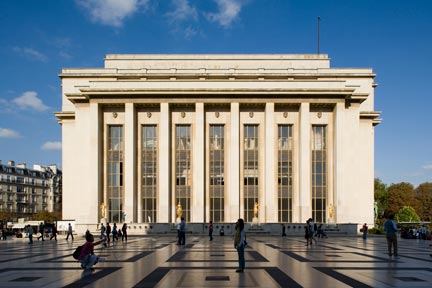 Here is a museum 10 years in the making. $114 million were invested in order to turn three 86,000-square feet galleries into one of the world's great architectural museums. That happened in September 2007. It was a big thing in town. The museum contained 350 plaster-cast reproductions of the highlights of French architecture.
For instance, if you go to the ground floor, you will find life-size mock-ups of cathedrals and other buildings. It will literary put monuments under a new perspective. Actually, for that matter you can also use the interactive screens where you can see the models in and out of context.
Further detail awaits in the upper floor, where you can see murals and stained-glass windows from past eras (medieval and Renaissance) as well as an interactive in which children can play with the joysticks to get a 360-view of the most impressive cathedrals on display on monitors.
Musée d'Art et d'Histoire du Judaïsme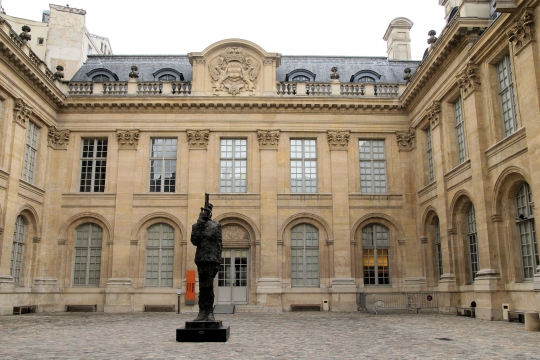 Le Marais was for centuries the epicenter of French Jewish life (which, in its heyday, was no small affair), so obviously, when the time came to locate a museum of Judaism, it became the easy option. In fact, the grand Hôtel de St-Aignan - which used to be a haven for the Jews that fled Eastern Europe because the population in those countries found their company bothersome for one reason or another - felt like the ideal spot to do so.
If you go there today, you can see the history of Jews in Europe in general, in France in particular and in North Africa.
The museum's strongest suit is how it bestrews modernity and history -- you can find current testimonials narrating many first-person stories as well as a historic relics: the documents that made the emancipation of French Jewry after the Revolution possible, the paintings that celebrate it, the egregious Dreyfus case, and anti-semitic cartoons.
There are also higher-brow elements to the museum. You can find 20th century avant-garde paintings by El Lissistky and Chagall as well as some thought-provoking sketches by Boris Taslitzky's depicting the Holocaust.