The Jardin du Luxembourg embodies all that is delightful yet confusing about Parisian parks: manicured trees, impeccable walkways, sculpted flower beds, and ravishing lawns which you are only supposed to look at, not sit on. All this beauty and you are supposed to look, but not touch.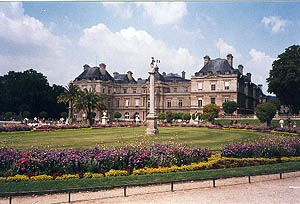 Nevertheless Jardin du Luxembourg is adored by Parisians young and old, and at any time of year.
Whether it be a morning jog, a lunchtime gossip or a Sunday stroll, this 17th century garden is always full of people enjoying its green lawns and formal terraces.
The History
Both the gardens and the palace were originally built for Marie de Medici in the mid 17th century who was homesick for the Boboli gardens of her native Florence.
The park was liberated from the Royals during the Revolution and is now free to all. Despite this regal beginning, the park retains a homely feel.
What to Do in the Park
The Jardin du Luxembourg has changed a lot since its conception but today it is a place where Parisians come in their time off to savor life. Children can enjoy traditional puppet shows (guignols) at the Théâtre des Marionnettes.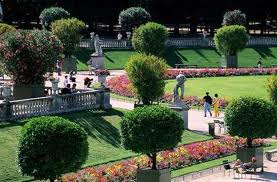 Stay and watch their expressions for just a minute. The simultaneous look of surprise and shock and joy and sadness is incredible.
There are plenty of thing to amuse including a merry-go-round, swings, and even pony rides. If you happen to be there on a summer afternoon, go to bandstand which hosts free concerts. There is boating on the park's ponds and an impressive array of statues, monuments and fountains.
If you're eager to burn off that breakfast pain au chocolat the gardens also boast tennis and basketball courts, as path that surrounds the perimeter perfect for jogging.
There is also a bee hive called Rucher du Luxembourg where bees have produced honey since the 19th century.
Located in the 6th arrondissement, the nearest metro station is Notre Dame des Champs.