From ancient masters to cutting-edge installations, art in Paris has all its bases covered.
The area around the Centre Georges Pompidou, the Musée Picasso, and the Bastille Opéra is a good place to look for contemporary-art galleries.
As you might expect from the upmarket luxurious area around Rue du Faubourg St-Honoré and Avenue Matignon, works by old masters and established modern artists dominate. There are also lots of charming art and antiques galleries in the narrow streets of Carré Rive Gauche, around Rue du Bac in St-Germain.
Ask in any one of these galleries for the Louise pamphlet, which gives descriptions of each gallery and plots them on a mini-map.
Fondation Henri Cartier-Bresson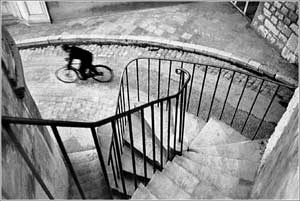 Montparnasse has an illustrious past when it comes to art in Paris; photography as great genii of the art like Louis Daguerre and Man Ray have lived and worked in this part of the city. So it seems only right that in 2003 the legendary photographer Henri Cartier-Bresson launched a foundation dedicated to contemporary photography in Montparnasse.
The foundation, which is housed in a 1913 building, is open to researchers and boasts a very impressively catalogued archive. There is also a lounge on the fourth floor which is used to screen films. In homage to its creator who always had his finger in several pies (Cartier-Bresson drew and painted all his life as well as assisting on three Jean Renoir films), the foundation opens its doors to other disciplines with three annual shows.
The feeling in the foundation is very relaxed - partly due to the Le Corbusier armchairs - so it is the perfect place for an artist debate with staff and other visitors.
MAC/VAL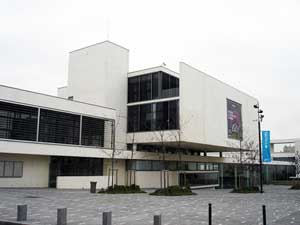 But art in Paris does not always mean the center of the capital. Just as the fire of the 2005 banlieue riots burned out, this contemporary art museum opened and breathed life back into the area. Since then it has earned a formidable reputation for making shrewd choices. Technically outside the city of Paris in Val de Marne, this place is definitely worth the journey.
Its year-round collection is a dazzling portrayal of French art from 1950 to the present, which constitutes work by Gilles Barbier Jesús Rafael Soto and Christian Boltanski. There is a 150-seat cinema as well so that exhibitions can be accompanied by video projections and documentaries. (Pl de la Libération. Metro: Porte de Choisy then bus 183/RER C Gare de Vitry-sur-Seine then bus 180).
Musée du Quai Branly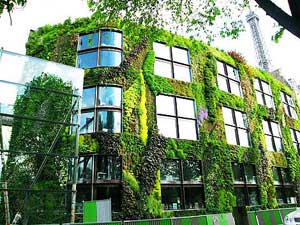 Surrounded by a lush imitation jungle on the banks of the Seine, you could be forgiven for being a little confused by this museum. In 2006, when President Chirac was going on his architectural-transformation rampage one of his offerings to the people of Paris was this enormous Seine-side collection of artifacts from Oceania, the Americas, Asia, and Africa.
Housed in an extraordinarily inventive building by Jean Nouvel (the looming glass shield is supposed to deflect traffic noise) the Quai Branly is a vast showcase for non-European cultures.
But painting and photography is not all that is available regarding art in Paris. Divided into four sections that correspond to different parts of the world, the museum's collection is immense: 3500 of the overall 300,000 pieces fill the display cases. The pieces themselves are truly impressive: gigantic ceremonial masks are eclipsed by towering totem poles and enormous, intricately-carved ivory tusks are mixed in with outlandish statuettes. Worth a visit if you can get past the looting-from-French-colonies aspect of it all. (37-55 quai Branly, 7th. Metro: RER Pont de l'Alma).
La Maison Rouge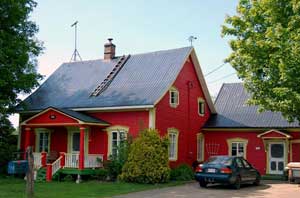 If you are looking for temporary exhibitions with a real flair for contemporary trends this is one of the only places of art in Paris that fits the bill. Former gallery owner Antoine de Galbert established this art foundation which mounts cutting-edge stuff several times a year.
The building is a cleverly renovated industrial space which is worth a look in itself. They have kept the original courtyard building which is now painted bright red (hence the foundation's name). Check the website to see what's on. (10 boulevard de la Bastille, 12th. Metro: Bastille).
Le 104
Despite being a little bit of a trek this exciting new art space, called Le Cent Quatre, is worth it for fans of offbeat art-in-the-making. This three-level building opened in 2008 is called a work in progress. The various elements, such as a restaurant, library, and children's area all nestle under one vast glass roof.
There are seven ateliers, or workshops to you and me, that the artists compete for. During the day the ateliers take it in turns to open, the idea being that whatever the artists create can be viewed from start to finish of the project, and thus you can witnessin progress. (104 rue d'Aubervilliers, 19th) Metro: Stalingrad).