In the 1st arrondissement, you will find the Jardin des Tuileries which was once the place to see and be seen in Paris.
Not only is it the oldest and largest garden in Paris but it was the first Royal garden to open to the public in 1664.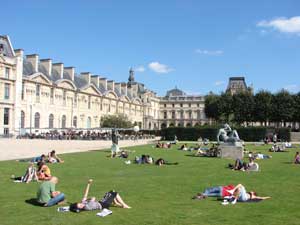 Similar in style to the Jardin du Luxembourg, this Italian-style park is another testament to the influence of the Medici family.
The History
The Jardin des Tuileries was built for Catherine de Médicis in 1564 in order to appease her pining for the promenades of her native Florence — not to mention her fondness for decadent parties.
In 1649, the man of the moment André Le Nôtre (gardener for Louis XIV and designer of the gardens at Versailles) imposed his preference for straight lines and sculpted trees upon the landscape of the Tuileries.
Even Napoleon deemed it worthy of his massive parties and celebrations.
The gardens are named after the factories once dotting this area that produced tuiles, or roof tiles, fired in kilns called tuileries.
Monet and Renoir often captured the Tuileries on canvas, and it's no wonder — Paris's famously overcast days create a grey, somber light makes the green trees look and feel even... well, more green.
What to Do in the Park
Today the Parisians flock here to enjoy some fresh air and greenery, and there is a carnival set up each summer along the rue de Rivoli terrace which pleases adults and children alike!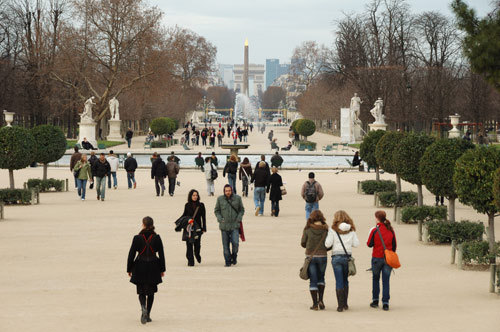 There are classical as well as contemporary statues sprinkled all around the garden including Louise Bourgeois' The Welcoming Hands (1996), which faces Place de la Concorde.
Start at the Louvre end of the park. There you will find the the Arc du Carrousel, a stone-and-marble arch that was once used to flaunt Napoleon's spoils of war. In it there used to be the bronze horses he stole from St. Mark's Cathedral in Venice.
He did eventually return the horses and today there is statue of a quadriga (that's a 4 horse chariot to the uninitiated) in its place.
The Jardin des Tuileries is also the proud possessor of some rather spectacular views as it is the starting point of the "Triumphant Line".
The Louvre, Arc de Triomphe and the Grande Arche de la Defense west of Paris stand in a nearly straight line which can be seen from here.
Don't miss out on the exceptional Musée de l'Orangerie, built in 1852 by the architect Firmin Bourgeois, and located at the west end of the garden close to the Seine.
Since 1927 it has displayed the series Water Lilies by Claude Monet. It also displays the Walter-Guillaume collection of impressionist painting. Though often overlooked, both are must-sees for art-lovers (or even -likers).
On the opposite end is the Musée du Jeu de Paume, which has temporary photography exhibits.