If formal, Renaissance gardens aren't really your style then head to Buttes-Chaumont to find a bit of untamed (although man-made) nature in the centre of Paris.
In the untouristy 19th arrondissement and surrounded by skyscrapers, Buttes-Chaumont is Paris' version of Manhattan's Central Park.
Unlike Central Park however there are swans here that reside in a lake at the base of a rocky cliff topped with a mini Greek-style temple.
Instead of the formal styles of the Jardin du Luxembourg and the Jardin des Tuileries, this lovely 61-acre hilltop park provides a welcome injection of nature into the bustling city with grassy fields, leafy walkways, waterfalls, and commanding views of Paris.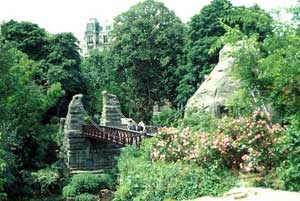 When Napoleon came back from exile in London he set about making Paris greener and so it was as part of this initiative that Buttes-Chaumont was created. Built in 1863 on abandoned gypsum quarries and a former gallows, this was northern Paris's first park.
It was developed as part of plans for the remodeling of Paris directed by Baron Haussmann and it is the third largest of its kind in Paris, encompassing over 5km of trails and paths.
Construction of the park was directed by designer Adolphe Alphand, whose main triumph was the park's central hill, with its breathtaking exposed crags.
The site of the park area has been a well used part of Paris since the 13th century, and Buttes-Chaumont lived a very different life before Napoleon III gentrified it.
What to Do in the Park
Buttes-Chaumont is slightly off the beaten track for tourists and so is perfect for seeing where locals really go to get away from it all.
Highlights include the Petit Temple (Little Temple) which is modeled on the Roman Temple of Sybil in Tivoli, Italy. It is at the center of the park which offers great views of Montmartre and Sacre Coeur for the willing.
Kids will really enjoy Buttes-Chaumont as there are pony rides and a typically parisian open-air puppet theater, Guignol de Paris. Bear in mind this is closed in winter.
The nearest metro stations to the the park are Buttes-Chaumont, Laumière or Botzaris.