The Parisian flea markets are heaven for anyone who appreciates an original antique, a unique piece of vintage clothing, a rare first edition or even just a good bargain! The markets are an Aladdin's cave of potential treasure that attracts tourists and Parisians alike.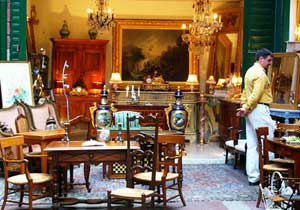 While definitely worth a visit, the Parisian flea markets can be confusing and overwhelming to a first time visitor with the chaotic stalls and crowds of people.
It is important to arrive early if you are serious about seeking out a real treasure and bring the bare minimum in terms of bags and purses – pickpockets are rife.
Porte de Montreuil
Established in the 19th century, this Parisian flea market is now open Saturday, Sunday and even Monday from 9 am to 6 pm, and is the perfect place for a relaxed weekend stroll.
It has around 50 stalls selling a range of goodies from engravings, linen, jewelry and old furniture but the astute buyers keeps their eyes open for the high quality second hand clothes and designer seconds that it is known for.
Just jump on the metro, line 9, until the Porte de Montreuil station.
Marché aux Puces St-Ouen
If however you are feeling more energetic then the St Ouen market (also known as Clignancourt) is the Parisian flea market to choose.
It started life as a rag-and-bone shantytown and first opened as a market in 1885. It dwarfs the Porte de Montreuil with over 2,500 stalls grouped into 10 mini marchés.
Rumored to be Europe's largest flea market, it certainly lives up to its reputation with an impressive array of wares that seems to go on for miles.
You can find anything from top notch vintage and modern clothing to antiques, furniture, books and even the odd old battery or stolen mobile phone. It really is a treasure trove: old Vuitton trunks, ormolu clocks, 1930s jet jewelry, and vintage garden furniture sit cheek by jowl.
Technically the St Ouen Market is located outside the bounds of Paris city, but you can get there easily using Line 4 of the metro and getting off at Porte de Clignancourt.