The 7th arrondissement, named Les Invalides, is absolutely jam packed with tourist attractions and museums at every corner yet it is rarely a visitor's favorite area of the city.
If staying in a hotel room with a view of the Eiffel Tower is your Parisian dream then, needless to say, there is no lack of accommodation in this part of the city, but understandably, they don't come cheap.
If budget isn't an issue there is a wide range of palatial hotels to choose from where you will be pampered and preened to within an inch of your life. Check out our Luxury accommodation section for advice on the best hotels in this area of Paris.
Les Invalides really did get the Haussman treatment and it boasts more grand boulevards and wide open spaces that you could wish for. For this reason it feels immediately different from older parts of the city and, dare we say it, slightly personality-less.
Cue the nobility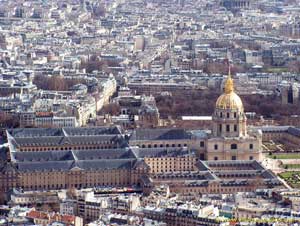 In the 17th century the area became Paris's most elegant residential district, but now many of its stunning residences have been converted to foreign embassies, especially near the Musée Rodin.
By the 17th century the French high nobility had grown tired of le Marais and the mansions they had built there so they moved to the 7th arrondissement which was less populated (by peasants) and less polluted (by peasants).
They proceeded to build some of the most outstanding residences that you will see in the city such as the Hôtel Matignon (which is now the residence of the Prime Minister of France) and Hôtel Biron (which has housed the Musée Rodin since 1919).
After the Revolution, many of these residences were confiscated and turned into national institutions which means everyone can enjoy them today!
With a never ending supply of unimaginably luxurious buildings, fascinating museums and a magnificent views of the Eiffel Tower, Les Invalides is well worth your time. It offers a past and a history far removed from that of bohemian Montmartre or literary Montparnasse but it offers a glimpse of a side of Paris that is equally as interesting.
Below we have made a list of our favorite must-see sights in Les Invalides. It might just be your favorite part of the city yet ...enjoy!
Sights to See
Hôtel des Invalides
The gold-leaf dome of Les Invalides glitters rain or shine and adds a touch of bling to the Parisian skyline. This enormous, spiraling collective is a complex of buildings containing monuments and museums all relating to France's military prowess (or lack of, depending on your point of view). Most famously, Les Invalides is the burial place of France's favorite pint-size war hero, Napoleon Bonaparte. There is also the Musée de l'Armée, Musée des Plans-Reliefs, Musée des Deux Guerres Mondiales, and Musée de l'Ordre de la Libération to visit as well. Check out the attraction page for the Hôtel des Invalides for more information.
Champ de Mars
This long stretch of grass runs from the École Militaire to the Eiffel Tower. Historically, it has lived up to its Roman God of War namesake (Champ de Mars means Field of Mars). It was previously used as a drill ground for the military school next door and during the Revolution, many civilian massacres took place in the proximities of the park as well as political demonstrations. It is much more peaceful now, if you discount the street vendors hassling you to buy souvenirs.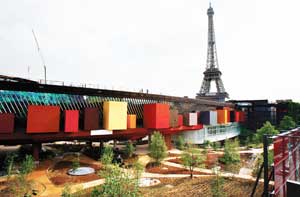 Musée du Quai Branly
This museum has caused a fair amount of controversy since its opening in 2006. It aims to showcase a collection of 'non-western' art acquired throughout the long history of France's colonial empire. Putting aside the obvious questions about the methods of acquisition, it really is an impressive sight. You can see magnificent collections related to art and culture from different continents (except for Europe). It is worth a look if you are want something different. For more information check out the museums guide.
Musée Rodin
This 18th century mansion was Rodin's home for a brief time so it seems fitting that it should now serve as a museum dedicated to his works. His most famous sculptures can be found in the gardens. Check out the museum's guide for more information.
Palais Bourbon
The Palais Bourbon has been the home of the Assemblée Nationale, the French Parliament, since 1798. In true patriotic style, Jean-Pierre Cortot's sculpted pediment shows the dame of France herself, with the tablets of Law in her hands, surrounded by Force and Justice. Sometimes there are outdoor photo exhibitions here, but tours are only available to French citizens.