When looking for hotels in Paris, you will have no end of options.
It almost goes without saying that if money is no object or you have decided to treat yourself and splash out, Paris is the perfect place to be.
The city which arguably boasts the best shopping and restaurants in the world, also boasts some of the best hotels. In terms of luxury accommodation, Paris really does have it all.
Whether you want to feel like royalty and stay in one of Paris' exclusive palace hotels or if smaller boutique hotels are more your style, you will be spoilt for choice, hotels in Paris are found in every neighborhood.
Palace Hotels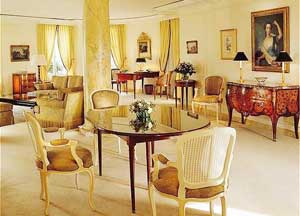 The French capital doesn't only offer a large number of accommodations. The following hotels in Paris have style, glamour and more of that.
If pampering is what your trip to Paris is all about, then what better luxury is there than waking up to a view of the Eiffel tower? Every room in Hotel le Bristol (Rue du Faubourg-St-Honoré) boasts a view of this Parisian icon, and it is located (far too) conveniently close to the luxury boutiques of Dolce & Gabbana and Givenchy.
Similarly the Plaza Athénée (Avenue Montaigne) is ideally placed for power shopping on the chicest street in Paris. Sex and the City fans will remember that it is from a balcony in this hotel that Carrie sees the Eiffel Tower for the first time.
There is no doubt that the Four Seasons George V Hotel (Avenue George V) is quite something when it comes to luxury: ridiculously large and comfortable beds, glorious bathrooms, amazing chandeliers and marble all over the place.
If you really want to stay somewhere with palais-esque decor then the Hôtel de Crillon (Place de la Concorde) is the one to choose. It feels like everything is coated in gold leaf. The Les Ambassadeurs restaurant is acclaimed and the location is stellar.
In recent years the manager of the Hôtel de la Trémoille (rue de la Trémoille) has really pushed it to another level and now it gives the other palace hotels in the area some competition. The new restaurant-bar-lounge and improved spa and fitness facilities are second to none and the bathrooms are filled with yummy Molton Brown products.
Boutique Hotels
But hotels in Paris are not only those huge palace. For those who prefer luxury with a more intimate atmosphere, you may want to consider one of the many boutique hotels that Paris has to offer.
For several hundred euros less a night, you can enjoy the same service and quality as a palace hotel but with a little bit more individuality.
St-Germain-de-Prés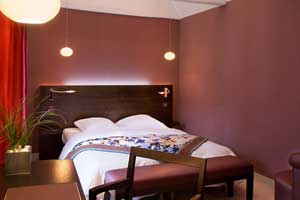 The offer of hotels in Paris may seem endless, but it all depends on your preferred neighborhood. If St-Germain-de-Prés is the area you prefer then the Artus Hotel (Rue de Buci) could be perfect. The 27 individually designed rooms are chic and generous while the staff is eager to help.
Not far away Le Bellechase (Rue de Bellechasse), which was renovated by Christian Lacroix, is the hotel of the moment. Only a few steps from the Musée d'Orsay, this hotel blends Parisian style with fun.
In the same neighborhood the Hôtel Odéon Saint-Germain (rue St-Sulpice) blends a family-run atmosphere with the luxury of St-Germain-de-Prés. The rooms are decorated beautifully and have flat-screen plasma TVs and designer toiletries. There is fantastic shopping just around the corner!
Le Montalembert is an impeccable boutique hotel and its benchmark is quality and service. Decorated in pale lilac, cinnamon and olive tones, each room is equipped with a flat-screen TV and all the Molton Brown you could wish for.
Elsewhere...
And yes, there's more. In Le Marais, Hôtel du Petit Moulin (rue de Poitou), also designed by Christian Lacroix, is a savvy mix of old and new right in the heart of one of Paris' coolest neighborhoods. Nearer the Champs Elysées, Hôtel Keppler (Rue Keppler) is a family-run gem.
All the rooms are interesting and cozy and the top floor suites have views of the Eiffel Tower.
It is not easy booking a suite at Hôtel Particulier Montmartre, so if you manage it, count yourself lucky. This precious hotel has only 5 luxurious suites. The hotel is dedicated to art and each of the rooms have been personalized by an avant-garde artist.
Jays Paris (rue Copernic) is a luxurious boutique-apart hotel that introduced a new concept in the hotel scene in Paris. It blends high tech and cutting edge equipment with exquisite antique furniture and avant-garde modern design. It has five beautiful suites, each equipped with kitchenette.