There are lots and lots of clubs in Paris to choose from, so it's best to do a bit of research before you go out.
Some formally gay clubs now open their doors to everyone, and some clubs change sexual orientation depending on the day of the week.
Some clubs charge a hefty entrance fee which is worth paying, whilst in some places you'd be mad to pay to go in.
In general, dance and house music is the most popular clubs in Paris but if you're looking for a certain type of music, check the club's website before you go. And whatever you're normally used to at home, don't expect to arrive at the club much before 1am or leave before the sun comes up!
Below we've listed our favorite clubs in Paris: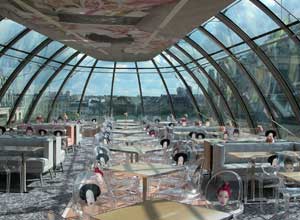 Kong Bar
Stunning views to be had from this very upmarket Philippe Starck designed bar. Drink prices not bad but dress to impress. 12pm - 2am (1st arrondissement).
Le Redlight
One of Paris' busiest clubs. Plays house, techno and electronic music. It's huge. Any particular feature? Laser illuminated!. 11pm – 6am (14th arrondissement).
The Queen
A formally famous gay club, now Le Queen welcomes everyone. Always buzzing, Wednesday is Ladies Night. 12am – 6am (1st arrondissement).
Le Baron
Graced by A-listers and the cool crowd, this club oozes cool. Good luck getting in. 10pm – 5am (6th arrondissement).
Barrio Latino
Three impressive floors of dancing in this salsa themed club. Open 'til 3am Fri & Sat (11th arrondissement)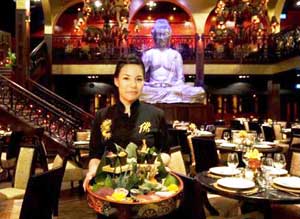 Buddha Bar
Goes in and out of favor with Parisians, but always a hit with tourists. Spectacular décor. Sat & Sun 4pm - 3am (8th arrondissement).
Social Club
Huge, very popular club. What music does it play? Mostly electro, funk, hip-hop, jazz as well as live shows. 11pm – 6am Thurs – Sun (2nd arrondissement).
Cab
You might get bypassed by the models, photographers, and stylists at the velvet rope but don't let this put you off. Depending on the night, you'll hear funk, hip-hop, electro, or house. (1st arrondissement).
If Jazz clubs are more your style then these two won't disappoint:
Le Duc des Lombards
Very cool venue with great jazz musicians on its walls. The crowd that goes is a little less reverent than others. 9pm – 4am (1st arrondissement).
Le Baiser Salé
Known for its relaxed vibe and talent for discovering new talent. 5pm – 6am (1st arrondissement).