Christian Dior is a legend in the fashion world. This shy, highly superstitious man became one of the most influential designers of the 40s and 50s and dominated fashion after World War II with his extravagant, opulent New Look. He taught women how to dress again after nearly a decade of hardship.
Not only did Christian Dior take the fashion world by storm but he was the first person to recognize the power of the fashion industry and establish his brand, Dior, globally across a wide range of products.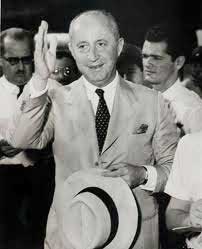 The renowned designer Christian Lacroix recalls that when he was little, when asked what he wanted to be when he grew up, he would answer "Christian Dior". When Lacroix was growing up in France in the 1950s, the image of Dior was less that of a man but more of an institution.
His name was world-famous and his label accounted for half of France's haute couture exports. The Dior client list was star-studded: Hollywood starlets and European royalty waited in line to be dressed by Christian Dior.
The Shy and Retiring Type
A short, balding, shy man, Christian Dior did not take to the spotlight naturally.
He was charmed by the crème de la crème of Parisian society yet all the while he dreaded having to bow to his audience at the end of each couture show.
His superstition reached alarming levels (he had to discuss even major decision with his clairvoyant) yet he was so exacting, some might say demanding, that he refused to receive a man who was not wearing a tie.
Christian Dior was born in 1905 in Granville, a seaside town on the coast of Normandy, to a wealthy fertilizer manufacturer. At his parents insistence he enrolled in the prestigious Ecole des Sciences Politiques in Paris to study politics - a move that his parents hoped would help him make a career out of diplomacy.
However Dior did not have the same idea as his parents, all he wanted to do was work in the arts. To make extra money during his studies, he sold his fashion sketches on the streets of Paris.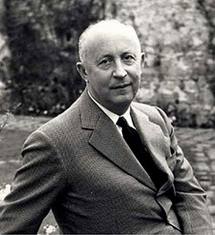 In 1928 Dior's father gave him enough money to open an art gallery which soon became a popular avant-garde haunt, exhibiting paintings by Picasso and Braque.
Family Tragedy
However disaster struck just three years later when the death of Dior's older brother was followed by that of his mother and then the subsequent collapse of the family business.
Dior had to give up the gallery and spent the following years scraping a living selling sketches until in 1938 the couturier Robert Piguet decided to employ Dior as a design assistant at his new couture house.
When World War 11 hit, Dior served as an officer until France's surrender and was then offered a job in Paris by the couturier Lucien Lelong. For the rest of the war Dior had to grin and bear it, dressing Nazi wives and French collaborators.
The war ended and France as in ruins. Clothes, coal and food were scarce yet there were ample opportunities for new business ventures.
With financial backing from Marcel Boussac, the "King of Cotton", Dior founded his own fashion house in December 1946 at at 30 Avenue Montaigne.
Dior's New Look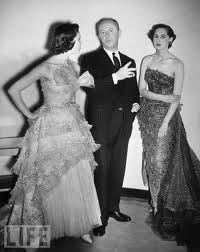 The first Christian Dior couture show was scheduled for just a few months later, 12th February 1947.
Along with his 85 employees Dior worked day and night to bring his vision of a new, feminine silhouette to life. And what a vision it was.
The soft shoulders, waspy waists and full flowing skirts of the collection were received to rapturous praise from the industry and public. Dior's "New Look" with its abundance of beautiful fabrics was exactly what the people needed after the years of brutality and denial during the war.
The Dior fashion house was inundated with orders and Paris was back on the fashion map.
Behind the scenes, Dior was being built up as a business and the importance of diversifying and expanding was recognized. Eager to capitalize on the popularity of the "New Look" a ready-to-wear boutique was opened on New York's Fifth Avenue and a Dior perfume, named Miss Dior with the US market in mind, was launched.
A Winning Formula
Dior's attitude towards design was a pragmatic as his business sense; instead of reeling out new designs and experiments every collection he stuck to a tried-and-tested formula: one third new designs, one third familiar styles with a twist and one third proven classics.
As the most prestigious fashion house in the world, Dior had his pick of the most talented assistants.
One such assistant was the Italian-born Pierre Cardin who started his fashion life as Dior's assistant in the 1940s and then went on to open his own successful fashion house.
Another was the now legendary Yves Saint Laurent who joined Dior fresh from fashion school in 1955. Dior became a sort of father figure to the gifted yet shy Saint Laurent and he even let him contribute 35 outfits for the 1957 collection.
His Legacy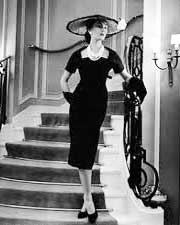 After the collection was finished, Dior went off to his favorite spa town of Montecatini in northern Italy for a break. He died suddenly on 23rd October for reasons that were never fully explained.
Some say he died while choking on a fish bone, others say it was caused by a heart attack after playing a game of cards. The contemporary rum our in Paris was that Dior died of a heart attack after a strenuous sexual encounter. To this day no one really knows the cause of his death.
Needless to say, Dior's sudden death at the height of his influence and fame sent shocks through the fashion world.
Some 2,500 people attended his funeral including all his staff and several famous clients. Two weeks later it was announced that the young Yves Saint Laurent was to take over responsibility for all the sketches - a big task for a 21 year-old.
In fact Yves Saint Laurent didn't stay at Dior long before setting up his own label.
He was replaced by Marc Bohan who instilled his conservative style on the brand and then by the enfant terrible of fashion John Galliano in 1996. Under their leadership the Dior brand has flourished and they have achieve the global recognition that Christian Dior envisioned all those years ago.