While sexy blondes have been popular for decades all over the world, this sexy kitten called Brigitte Bardot added a definite dose of je ne sais quoi to the American original.
Her huge blue eyes combined with her pouting rose-tinted lips all framed by that messy morass of impossible curls would be enough, but set that atop abundant curves and legs as long as the Eiffel Tower and you've got yourself a winner. A blonde bombshell à la française.
The French actress was the quintessential carefree Sixties role-model, the very embodiment of the laisez-faire lifestyle.
The toast of the town, she enjoyed the hedonistic way of life that typified the time, making films, music and love in abundance. Thanks to Bardot the world started wearing bikinis and, of course, she sparked the trend for outrageously sexy hairstyles, like voluminous tousled curls, and the notorious beehive.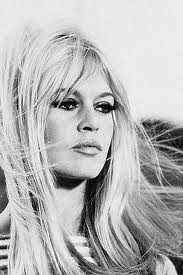 The French beauty was born in Paris in 1934. Her parents were wealthy conservatives. Bardot began studying ballet at the age of five, and by 13 she was dancing at the Conservatoire Nationale de Danse in Paris.
She had her heart set on being a ballerina but when she was 14 she was put forward by her mother for some modeling and was photographed for the cover of Elle magazine after modeling in a couple of fashion shows. The magazine cover brought Bardot to the attention of film director Roger Vadim who had been enchanted by the photo of the young girl and who showed it to screenwriter Marc Allégret.
Brigitte Bardot was offered the chance to audition for a role "Les lauriers sont coupés". The young aspiring actress got the part, but the film was cancelled. Despite this minor setback, it made Brigitte consider the possibility of being an actress instead of pursuing a ballet career.
Sex and Fashion Symbol
Bardot married Vadim (who was 25) when she was 18 years old. In order to get her parents permission Roger Vadim, who was a Russian Orthodox Christian had to convert to Catholicism. Whether he complied is not clear or not, but the fact is that they did wed.
The couple got divorced 5 years later, but they remained close friends.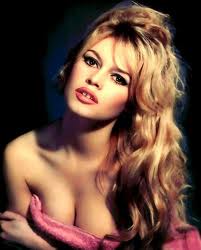 She acted in many films from 1952 to 1956, however one of her most acclaimed roles was that of a 17 year old orphan. The 22 year old Brigitte Bardot became an overnight sensation thanks to her stunning beauty and the film's overt sensuality. She embodied a natural yet innocent sexuality that was a precursor to the sexual liberation movement of the 1960s.
After the success of the film, Brigitte became the subject of many photographers which further enhanced her image as a sex-symbol. She knew how to dress her perfectly proportioned hour-glass figure to best display her body and showcase her clothes.
Bardot forswore the Catholic principles of her family and her own childhood and said "It is better to be unfaithful than to be faithful without wanting to be. " Opting for a classic, very feminine style that was inspired by her childhood spent dancing ballet, Brigitte was soon influencing the style of women from all over the world.
In the fashion world, Brigitte Bardot popularized the open neckline (named after her) that exposes both shoulders. She was also single handedly responsible for bringing the choucroute or beehive hairstyle into fashion. The Bardot-mania was so great that when she chose to wear an unconventional pink patterned dress to her wedding to Charrier, gingham was once again in the shops.
Press Attention
In 1957 Bardot divorced Vadim and married her co-star in Babette Goes to War Jacques Charrier two years later. The press had a field day and preyed upon Bardot and her new husband almost constantly. The scene from her 1960 movie Vie Privée in which Bardot is harangued in an elevator by a middle aged woman who insults her was based on a real incident.
Brigitte Bardot attempted suicide in early 1958 and later that year, deciding she could take the press attention no longer, the actress isolated herself from the media in St Tropez in the South of France.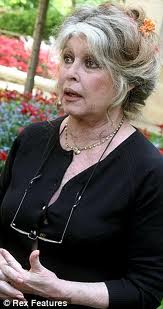 Bardot went to the French Riviera to live a quiet life but it didn't happen.
She divorced Charrier in 1962 after having a son with him and by 1966 she was on her third marriage to German playboy millionaire Gunter Sachs. She was one of the first women to wear a bikini (it obviously became all the rage once she had done it) and her friends were the first people to sunbathe topless on the beaches of St. Tropez in the late 60s.
In 1973, just before her 40th birthday, Brigitte announced her retirement from film in an attempt to "get out elegantly ".
After making 50 films and several albums, Brigitte Bardot chose to use her fame to promote animal rights, a cause with which she's still heavily involved to this day.
Political Views
Unfortunately not all her opinions are respected and several of her blunders have plagued Bardot in recent years.
The French government has fined the actress and animal rights activist no less than four times, as they claim some of her books inflame hatred feelings against homosexuals, mixed race marriages and Islam in general. Of the first she said that they are "fairground freaks ", she branded interracial marriages as an abomination (according to her) and of the latter she said that it is slowly invading France.
Bardot also gave her outspoken support to Jean-Marie Le Pen, the extreme right ex-presidential candidate.
Never one to keep her opinions to herself, Brigitte Bardot recently threatened a director who was planning on making a movie about her life, warning him that "sparks will fly " if he goes ahead.