The excellent national train service in France means that long-distance bus service in the country is deeply unpopular and therefore practically nonexistent; regional buses are found where train service is spotty.
It is possible to obtain information about the local buses that access those rural areas where trains to not travel to from the SNCF. Visitors from London will find that the cheapest travel option to Paris is coach, though of course, it won't be as quick as others.
From other European locations, often the train may be more convenient but there are a few options if you want to get the bus to Paris.
Eurolines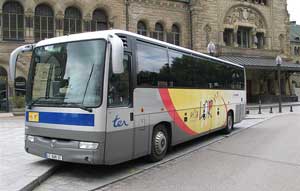 Eurolines is the largest international operator and an alliance that joins more than 30 bus companies. It connects Paris with cities all over Western and Central Europe, Scandinavia and Morocco.
The main terminal is in the city's international bus terminal, the Gare Routière Internationale de Paris-Galliéni. It is located in the in the Parisian suburb of Bagnolet (a half-hour métro ride from central Paris, at the end of métro Line 3).
Eurolines run international routes to 1,500 cities all over Europe. If you are determined to take a bus to Paris, then this is definitely your best option.
They can organize ticket reservations and sales and they have offices in Paris and London and websites in both French and English.
From the UK
It's possible to take a bus to Paris (via ferry) from the United Kingdom but this option relies on you being time-rich not cash-rich; the bus trip takes about seven hours as opposed to the three it takes on the Eurostar train line (St-Pancras Station-Gare du Nord).
If you are not on a tight schedule and you have the energy for it then the bus can be a worthwhile option: the price of a round-trip bus ticket is 50% less than that of a plane ticket and 25% less than that of a train ticket.
Eurolines also offers a 15-day or a 30-day pass if decide on taking the grand European tour in the best Victorian style. We suggest one of the Circle tours that depart from Paris ( London, Amsterdam, Paris again).
Eurolines operates a service from London's Victoria Coach Station, via the Dover-Calais ferry, to Paris's Porte de Bagnolet.