Paris being the city it is, you will find just about anything you are looking for in terms of entertainment, and music is no exception.
Whether it be ballet, opera, rock or an up-and-coming band you want to see, the music in Paris is plentiful and varied.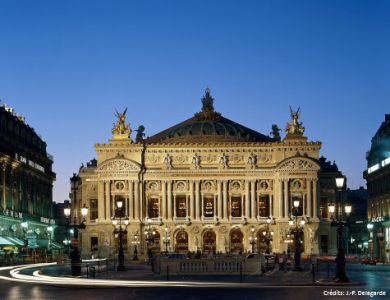 If you are lucky you might stumble across a gem in some underground bar in Oberkampf but for the less intrepid who want to see live Music in Paris it is a good idea to check out what's going on in the city before you arrive.
Check out the comprehensive Programme des Festivals (free at tourist offices) for information on the seasonal music and dance series. The magazine Paris Selection, which is available at tourist offices, has extensive listings of public concerts.
Music in Paris comes in different packages, and free concerts are often held in churches and parks, especially during summer festivals; these are extremely popular, so plan to arrive at the host venue early. Église St-Germain-des-Prés and Église St-Merri hold concerts as does The American Church in Paris.
Larger concerts for international artists are held at Le Zenith or the Bercy stadium, Metro: Bercy. Here's where you can see world famous performers.
There are dozens of venues in which to see live music in Paris, but below are just a few of the best:
Opera and Ballet
Opéra National de Paris, Palais Garnier Place de l'Opéra, 9th. Metro: Opéra
The Palais Garnier is as ornate and extravagant as you could ever wish an opera house to be and perhaps the most famous venue for listening to classical music in Paris. It even boasts a painting by Marc Chagall. As well as being a shining example of French music-making it is the social hub of Right Bank. It is also the setting for Gaston Leroux' novel "The Phantom of the Opera" and the musical of the same name.
Opéra de la Bastille Place de la Bastille, 12th. Metro: Opéra
It is never going to be a beautiful building, but the quality of performance and performers is what's important. As of 2006 its director is Nicolas Joel.
Rock and Pop
La Cigale 120 Boulevard Rochechouart, 18th. Metro: Pigalle
Fell like watching a live show or listening to some contemporary music in Paris? La Cigale has hosted everyone from Johnny Halladay, Radiohead, Cypress Hill and the Red Hot Chili Peppers. This theatre opened in 1887 and since then has been a venue in which all kinds of contemporary musicians have played. It was distinguished as an historical monument since 1981.
Élysée Montmartre 72 Boulevard Rochechouart, 18th. Metro: Pigalle
One of the most famous music venues in Paris. Many famous artists, such as David Bowie and Counting Crows have not only played but also filmed and recorded their concerts for DVD's.
Jazz
New Morning 7-9 rue des Petites Écuries, 10th. Metro: Château d'Eau
Perhaps the best venue to see the most avant-garde jazz musicians. However jazz is not all you can find, there are also blues and world music performances.
Point Ephémère 200 quai de Valmy, 10th. Metro: Louis Blanc
This place will be anything you want it to be: concert hall, club, restaurant, artist studio. Smoke and look different (yet the same) to fit in. Music acts are usually lesser known.
Au Duc des Lombards 42 rue des Lombards, 1st. Metro: Châtelet
This respected and well known venue features some of the best jazz and highest class performers and a crowd who prides themselves of being connoisseurs.